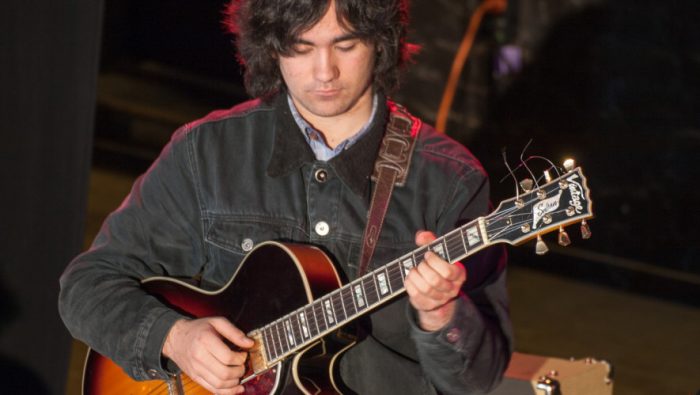 Petersham,

Rose Bay,
Guitar Lessons | Jazz Improvisation Lessons
---
Qualifications:

BmusArts

Pricing:

60/hr

Styles:

Jazz and Jazz guitar students

Suitability:

12 and above
---
Bio
Damien Motu is a Sydney-based Jazz guitarist and composer originally from Christchurch, New Zealand. In 2014 he completed his degree at CPIT MusicArts (formerly CPIT Jazz School) majoring in Arranging/Composing and Jazz Guitar Performance.
Damien became immersed in jazz music in his first year of study finding inspiration from great saxophonists Dexter Gordon, Charlie Parker and John Coltrane to more contemporary artists such as Lage Lund, Robert Glasper and Kurt Rosenwinkle.
In 2012 as a part of his study, he travelled to New York for a month where he met, had lessons with and attended concerts from some of the best jazz musicians that the world had to offer. In 2015 he led the Damien Motu Quartet for their debut concert as part of the New Zealand Jazz and Blues Festival in Christchurch and has regularly performed over the past 5 years with various groups in the Martinborough Jazz Festival.
With 6 years teaching experience from teaching groups of children ukulele to leading jazz ensembles and big bands of all ages as well as private students he has helped with school exams, Damien has a wealth of knowledge that any student will benefit from in one way or another.
2017 marked the next step for Damien to advance his musical goals when he moved to Sydney in order to play with and learn from established jazz musicians around Australia.
---
Teaching Info
My aim for any student is to give them the ability they need to be able to pursue any musical goals such as being able to transcribe or develop better practice habits.
Topics Covered
Basic to Advanced Guitar voicings
Comping
Guitar technique
Sightreading
Ability to Improvise over Jazz Standards
Chord melody arrangements
Ear training
Odd time playing
Developing a strong sense of time
Currently due to a busy Schedule I will be only willing to take students who have a basic understanding of playing the guitar and are familiar with basic music theory.
I can Teach at my home in Seven Hills or out in a music studio in Rose Bay.