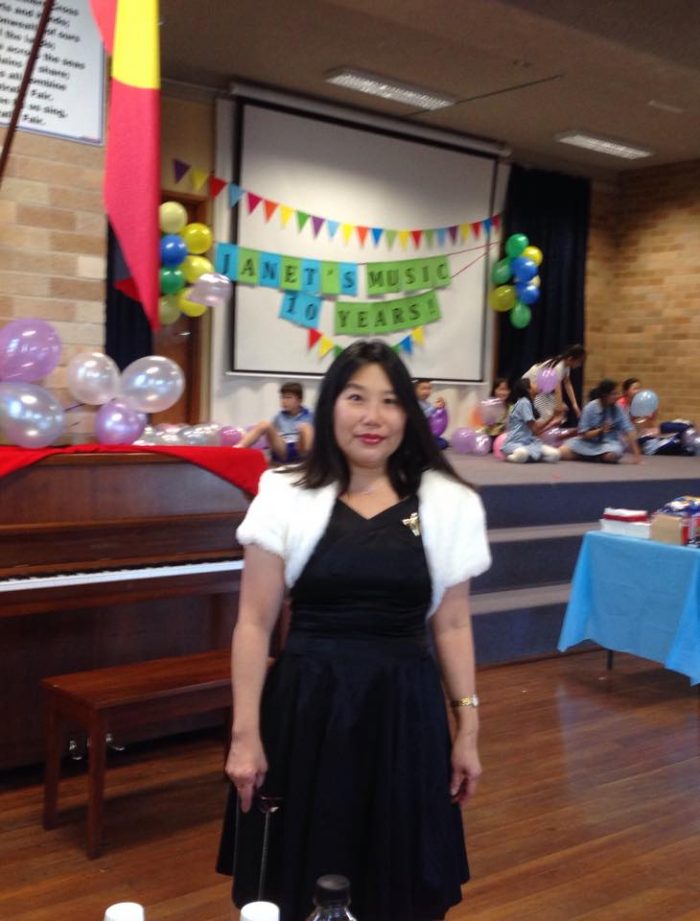 Bardwell Valley NSW, Australia
Lorraine Avenue, Bardwell Valley NSW, Australia
Augustine Street, Hunters Hill NSW, Australia
will travel to you please enquire.
Piano Lessons | Double Bass Lessons, Guitar Lessons, Keyboard Lessons | Aural Lessons, Song Writing Workshops, Theory Lessons, Composition Lessons, Music And Movement For Under Fives, HSC Music Exam Preparation, Online Lessons
---
Qualifications:

COLLEGIATE OF SPECIALIST MUSIC EDUCATORS

Pricing:

Per 30 minutes individual lessons - Beginners $40/-, Late Intermediate $43/-, Advanced $46/-

Styles:

Classical, Popular, Rock, Jazz, Anime

Suitability:

Beginner to Advanced level. Ages 3 to 80
---
Bio
The aim of Janet's Music lessons is to develop the musician and love of music in children. Through the carefully structured program, children learn to read music and develop the skills in theory, rhythm, technique and performance. Above all, Janet's Music who is passionate and committed recognises the vital importance that music can play in a child's development.
Lessons are conducted in Janet's Bardwell Valley studio, Hunters Hill studio and students' homes.
---
Teaching Info
Students need to own the instrument in order to practice at home.
All styles of music can be taught according to the student's preference.
Traditional method of teaching for examination or leisure.
Students are expected to practice regularly at home.
Thanks Janet! Honestly you and your team are very professional. And they all tried to help Olivia out at any possible way for her to achieve the best results. I do whole hearty thankful to you and your team. We are very very lucky to have ALL the support from you and your team. Like I said again. Whatever the results may be. It is not important anymore. The experiences were what we want to achieve and we definitely have achieved that. Olivia is so much confident now. She will do her mighty best at the audition. Thank you so so much again to you and the big family of Janet's Music. Words really can't express my appreciation. Cheers, Vivian
Olivia W
Hi Janet, Renee and I would like to share this good news with you. Renee won her first trophy as being the 3rd place from today's performance at the Junior Music Festival...Of course the first person we would like to thank is you. Enjoy the rest weekend and we see you tomorrow. Cheers, Jacqueline & Renee
Renee
Hi Janet Thanks for being an amazing piano teacher to Kate and Sarah. You really did develop a love of music for both the girls. I am sure Kate will miss her weekly lesson meeting with you. Hope you and your family have a wonderful Christmas and all the best for the 2014. Kindest regards Margaret
Sarah and Kate
Thank you for teaching Sisana so kindly and so patiently. have a great break, Janet. See you in the new year. Merry Xmas. all best, Mark.
Sisana
Thanks Janet for your hard work throughout the year and making it enjoyable for our girls learning to play piano. Hope you have a great Christmas and all the best for the new year. Cheers Mike Salis
Shaniqua and Bianca
Dear Janet, Congratulations to you and your team for your teaching this year. And to the winning house team. We thank you and wish you a very merry Christmas and a successful and happy and safe 2012! See you next year, Tiffany and Stav
Tiffany P