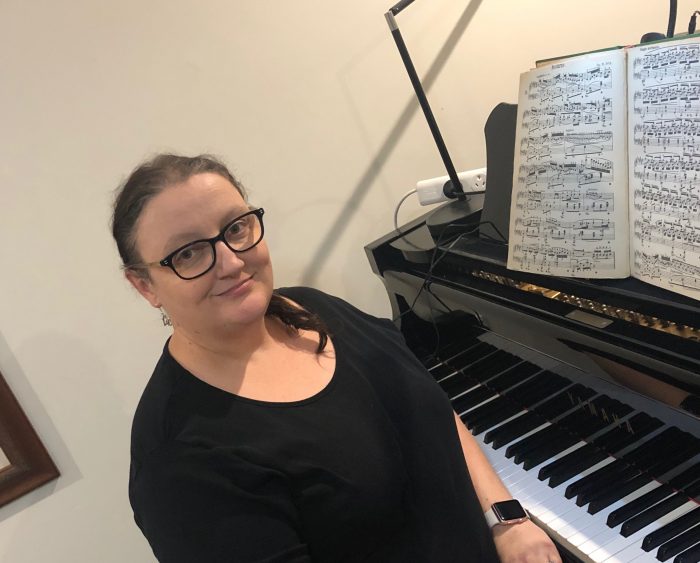 90 Parklands Road, Mount Colah NSW, Australia
Piano Lessons | Keyboard Lessons, Singing Lessons | Aural Lessons, Theory Lessons, HSC Music Exam Preparation, Skype Lessons, Online Lessons
---
Qualifications:

Bachelor of Music, Diploma in Music Teaching, Advanced Certificate in Music

Pricing:

$35-40 per Half Hour

Styles:

Classical, pop, etc.

Suitability:

3.5 years old to Adult
---
Bio
I have been teaching since 1994 and also have an 21 year old son. It helps to have experienced being a mum and to know first hand the stages of development in children.
Aside from music, which is what I generally live and breath everyday, I also enjoy spending time with animals, international travel, drawing, movies and more.
I believe that no matter how good a teacher you are, you can always improve and learn more, so I am always continuing my education in Music and Music pedagogy. I have a diploma in music teaching and a Bachelor of Music. I am always exploring new and old pedagogical methods and I hope that in the future I can publish my own book. I am influenced by other methods such as Dalcroze, Kodaly, Orff and Suzuki as well as learning from my own studio teaching as to what works with children and adults
I understand the need for music students to not only enjoy their instrument in performance, but to learn and embrace music as a whole. Including reading fluency, aural skills, understanding of varied music styles/genres and to be able to gain the skills to compose their own music if they wish.
I am always trying innovative methods of teaching that are fun, hands on and interactive with other students (if possible).
Students that discover music in a fun and natural way are more likely to take their own initiative to stick to the commitment of learning music for life.
---
Teaching Info
Piano Lessons: Levels from complete beginner to Certificate of Completion. From ages 3.5 to adult.
Equipment provided: Room is air-conditioned with a lounge, wifi and a grand piano as well as a fully equipped digital piano. Lessons sometimes use technology and/or equipment such as an ipad, metronome, percussion instruments and more.
Equipment not provided: Students must have a full size touch sensitive keyboard or acoustic piano to practice at home on. Students must purchase performance workbooks or theory books as needed and bring them to each lesson.  Students wishing to participate in exams must pay for the exam fees separately to the examination board (facilitated through me).
Lessons are catered to the needs of each student.
Larisse taught me from a very young age and was always kind, encouraging and patient with me. I passed all my practical and theoretical exams under her tutelage and I could always rely on her to to give me helful tips and encouragement throughout. She is knowledgeable and passionate about all kinds of music and I would definitely recommend her as she is an excellent teacher!
Mabel
Larisse was my piano teacher for over ten years and definitely installed a love of piano and music in me. She really cares about each student, nurtures their ideas and helps them to mature across a broad range of musical genres, whilst giving them a firm technical grounding. After helping me through all my AMEB grades and successfully pass AMus, learning from Larisse has given me the skills and confidence to teach piano students of my own.
Candice
Larisse has been tutoring my 3 children in piano for almost 2 years. With ages ranging 6 to 16, she is expert at tailoring the lessons for each child to their ability and age. They look forward to every lesson
L.F
Larisse was my piano teacher from Grades 4 to 8 and throughout those years I really enjoyed how we held piano recitals every year or so. It made me practice my songs, which was great prep for the AMEB exams, it really improved my confidence in public performance and furthered my love for playing the piano. I liked how Larisse placed importance on Theory Lessons because it made me better understand the art of composition, among other things, so I could improve my practical playing and knowledge in how things fit together.
Sandy