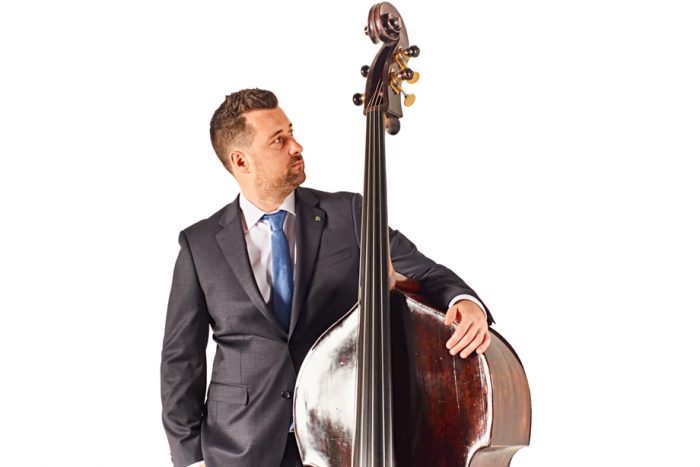 25 Tramore Place, Killarney Heights NSW, Australia
Electric Bass Lessons | Double Bass Lessons | Aural Lessons, Ensemble Coaching, Theory Lessons, Jazz Improvisation Lessons, HSC Music Exam Preparation
---
Qualifications:

Bachelor of Music (B. Mus), Jazz Performance, Bachelor of Arts (BA), Philosophy

Pricing:

$90.00 + GST per hour lesson

Styles:

Jazz, Soul, R&B, Funk, Pop, Rock, Contemporary

Suitability:

Beginner, Intermediate, Advanced
---
Bio
Michael is a musician, bandleader and educator with over twenty years experience on the acoustic and electric bass. During his study at the prestigious Sydney Conservatorium of Music, Michael had the opportunity to study under leading jazz musicians Craig Scott and Steve Brien, and has since become an active member in the Sydney jazz community.
Michael has toured and recorded with numerous bands and artists in the Australian music scene. Some of these highlights include performing with Australian icon Tom Burlinson at the 2019 Susu Mamas Charity Fundraising Ball in Papua New Guinea, headlining the 2013 Limund-Oz music festival with renowned American gospel singer Joshua Nelson, performing at the 2015 Woodford Folk Festival with acclaimed Sydney French duo Baby et Lulu, and running his own jazz band The Graduates. Michael released his debut album 'Blues For Ray' in 2020 and has also performed extensively with other musicians and artists at prominent music venues in Sydney, including The Basement, Oxford Art Factory, The Vanguard, Venue 505 and the Camelot Lounge, as well as countless corporate events and private functions.
As an educator, Michael is passionate about music education and currently teaches privately at the following schools:
Newtown High School Of The Performing Arts (Double Bass & Bass Guitar Tutor)
Sydney Boys High School (Double Bass & Bass Guitar Tutor)
Jeffries Academy Of Music (Double Bass & Bass Guitar Tutor)
Michael has also been active in taking school bands and running workshops and music camps to high school students across New South Wales.
---
Teaching Info
Bass Guitar & Jazz Double Bass Lessons
Performance and Repertoire
Technique
Reading Skills
Aural Skills
Improvisation
Music Theory
Musical Knowledge and Understanding
I have been taking electric bass lessons with Michael for several months and it has been great. Michael teaches techniques and theory concepts through different music styles with a very practical approach helping you to develop at your own pace. I highly recommend if you are serious about becoming a better player.
Rafael (Adult Student)
It's hard to get into the mind of a quiet teenager, but when the bass guitar comes out, something magical happens. I love that Michael begins each lesson with, "What have you been working on this week?" and he coaxes out of the shyness a confidence and passion that fills our quiet neighbourhood with funk. An inspirational teacher and mentor, professional and talented. I highly recommend Michael to aspiring musicians.
Keiko (Parent)
Michael is a dedicated teacher who has taught our son, Matthew, bass guitar for 4 years. Matthew always enjoys his sessions with Michael and his bass playing has flourished under his tuition. It is a constant delight watching Matthew's bass guitar skills and love of music thrive. We would be pleased to recommend Michael to any student seeking skilled and structured bass lessons.
Cassie (Parent)
Michael Walder is a highly talented musician who has been teaching my son double and electric bass for over 4 years and is now working with him to prepare for the HSC. Learning from an experienced musician like Michael who also performs regularly has provided that extra edge and given my son valuable insight to the possibilities that a future career in music can offer. I highly recommend Michael to anyone seeking a fantastic bass tutor who easily connects with students and gives them the confidence and skills required to develop their musical talents.
Belinda (Parent)
My two sons have been fortunate to have had Michael Walder as their private tutor for electric and double bass for approximately 4 years. Mike's style is very engaging and he builds a strong rapport with his students, tailoring the music choices to suit their interests and skill level. The fact that he is also an active and highly regarded performer in the music industry gives him credibility and relevance for his students. My sons, who are now teenagers, have really benefited from having Michael as their teacher from both a musical and strong role model perspective.
Beth (Parent)
Thank you Michael for being accessible and generous in parting with your extensive knowledge and experience. In the several months that I've been learning jazz bass with you, my fellow musicians have commented on my playing improvement. Thank you Michael and I look forward to a long association.
Tony (Adult Student)