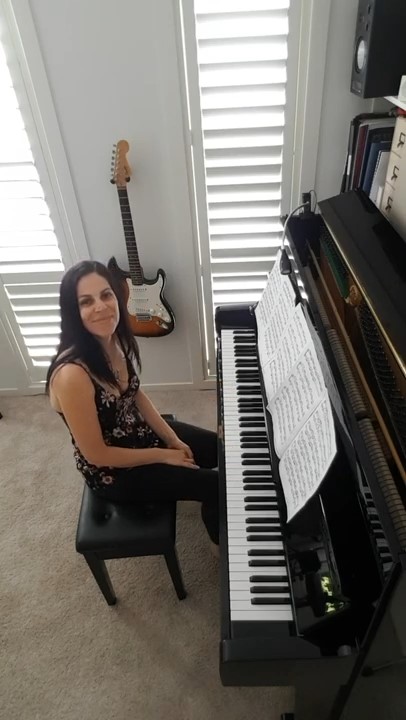 Shearwater Drive, Warriewood NSW, Australia
Piano Lessons
---
Qualifications:

Grade 8 Piano (Con Brio Examination Board) Pass with Distinction, Bachelor of Health Science (Rehabilitation Counselling), Certificate 3 in Early Childhood Education and Care

Pricing:

On request

Styles:

Contemporary and classical

Suitability:

Ages 5 to adult
---
Bio
Keyboard Club was established in 2013 by Sharyn Curry. Sharyn began her music journey early, taking organ lessons from the age of 5. During her teenage years she developed a love for piano and soon began taking piano theory and practical exams.
In 2000 she began teaching group keyboard classes to school aged children and taking on private piano students. She has been teaching early childhood (0-5) music classes with children since 2015 and is currently studying for an Associate of Teacher Music Australia through the esteemed Australian Music Examination Board (AMEB).
"It is my passion to instill in children a love for playing music, by providing them a fun and stimulating environment to learn. Keyboard Club was established with this in mind."
Keyboard Club runs preschool music and piano programs for both individual and small groups as well as private piano tuition. Classes run Monday through Saturday during the school term.
---
Teaching Info
If you are wanting to learn traditional classical piano or playing for your own enjoyment I aim to provide fun and stimulating classes. Using a mix of traditional and modern curriculum to provide a progressive learning experience tailored to each individual. Using both AMEB and CON BRIO exam syllabus as requested. Recommended for ages 5 and up. Currently accepting new enrolments"
Sharyn Curry taught piano to my four children at various stages from 2001 to 2010. During this time, I found Sharyn to be a warm and sincere person, genuinely interested in the children's musical development. Sharyn constantly strove to keep the lessons interesting and was able to tailor to the needs of each child without compromising others in the lesson. Sharyn was always very flexible with the time and structure of the lessons. Although we opted not to go with the AMEB examination format, Sharyn still tested the children's abilities before moving them on to the next level, and each year there was a Christmas concert to showcase the year's achievements. I would highly recommend Sharyn to anyone of any age who is interested in music tuition.
Kathy (parent)
Sharyn has been teaching my 9 year old son piano for almost 18 months now. He loves playing piano and he loves Sharyn as his teacher. We find that Sharyn communicates well and makes each lesson interesting and engaging. Sharyn always challenges him to reach to his higher potential. He recently opted to rearrange his music lessons significantly rather than swap to a different teacher. We have always found Sharyn to be punctual and highly professional in all aspects of her music teaching. I would recommend Sharyn to anyone looking for a warm, professional and highly competent music teacher
Louise (parent)
Ms Curry has been teaching my son for 2 years who is now 14 years old and has some learning difficulties. Ms Curry is an exceptional music educator with additional skills in understanding developmental needs of children and young people. This also expands to teaching children of all age ranges, genders and capability. The philosophy of learning at the keyboard club is engagement and she is flexibly and adaptive to the needs of each child. There is the capacity to learn for fun and enjoyment and also has the ability to assist students through additional music qualifications based on their preferences. Her teaching style supports students' self-esteem through connecting with their musical interests and goals and assists them with developing discipline and developing autonomy with their learning through support tools to assist parents with practice schedules. She was also able to diligently adapt her teaching practice online through COVID-19 providing classes via ZOOM meaning all her students could continue their learning despite social restrictions.
Eva (parent)