---
Creating your Google My Business listing for your music teaching studio
Home / Spotlight Articles / Creating your Google My Business listing for your music teaching studio
You may have noticed music schools and studios appearing search results or Google Maps. These search engine and map listings showcase hours, photos, reviews, and more. These are called Google My Business listings – and they one of the most powerful tools for Local SEO.

Just try searching for Guitar Lessons Sydney and you will see below the ads at the top of the page listing all the locations for guitar lessons in Sydney.
You've probably used them to help find a restaurant or go to a shop or music venue. You may have read the Google reviews left, or determined if the restaurant is right for your family. Google My Business (GMB) listings are therefore a critical powerful tool for businesses to use – because when you use GMB you can customise your listing and improve how individuals find and research your business.
In this spotlight article we will show you how to quickly get yours setup for your teaching studio and how to use it in tandem with your Sydney Music Teachers Online listing to help drive student enquiries.
Why list your studio on Google Maps?
Visibility is everything. More people finding your business when they need to, or your business appearing in the search results next to currently listed businesses is crucial to help your grow your student numbers. When you appear in a directory with other music teachers or are listed on the map as a teacher near them it shows parents and students that you are in business for real and looking to teach them!
When people are Googling, you want them to be able to access a wealth of information at a glance. Getting on Google My Business means more people finding your business through Google Maps and organic searches. It means people finding out when you are open, your contact information and reviews at a glance. It means using your online footprint to address positive and negative reviews. In short, Google My Business is a powerful tool to establish and manipulate your online presence.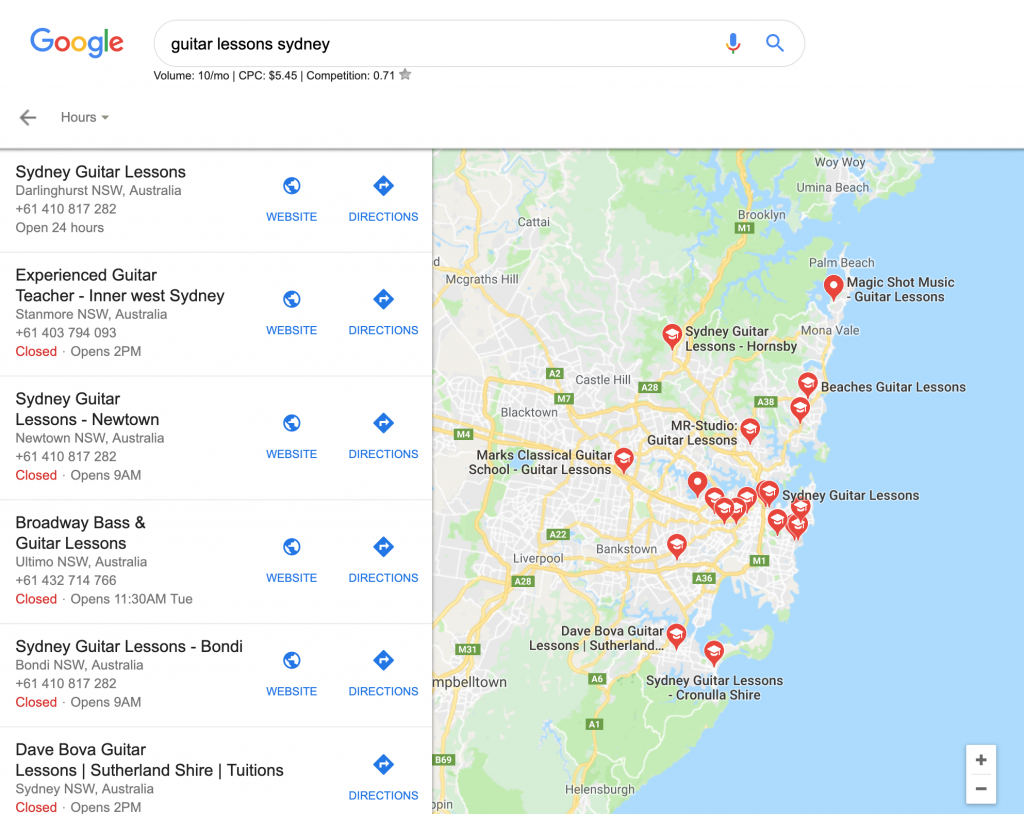 Ready to get started? Claim your Google My Business Listing
The first step is to claim your business on Google, at https://www.google.com/business. This is fast and easy:
Log into the Google account you want associated with your business. This could be your current gmail address or if you use GSuite then that account
Head to google.com/business and select "start now".
Enter your teaching business name and address and details. Add the contact number and Sydney Music Teachers Online listing url or if you have a website that address.
There are several methods for verifying your Google My Business listing. We recommend either getting (1) a code sent to the business' phone number or (2) having a postcard sent to the business address. Either process works but calling is the faster method.
Once verified, you will be able to respond to reviews, post updates and manage your GMB listing!
Now it is time to optimise your listing
Once you have access to your Google My Business listing, make sure that all of your relevant details are accurate and up to date. Details include your address, phone number, operating hours.
Additionally, make sure that you select the correct category for your business. You don't want to be competing for local search results in a non-related business category. If you are not sure which category best suits you, see what your competitors have selected on their listings to get a better idea.
Furthermore, enter the region or radius that your business delivers goods and services to by going to "Manage Location > Address."
The next step is to write a brief description, which outlines what your studio offers, what sets you apart. Make sure you include several of your core keywords. For example, if you are a Violin Teacher in Kensington, you may describe your business as a 'Classical and contemporary violin lessons, all ages, specialising in the Suzuki method in Kensington'.
Checkout Google's guidelines on writing a well optimised, powerful business description, that will help users understand your business.
Spice up your listing and make it information rich!
Images and video on the web are the most highly consumed content types so make sure you take the time to add a couple of photos to your listing. These should be of you, some with your students, concert shots, studio interior photos and maybe one showing students where to park! We want to invite these google searchers into your studio, see what you are all about and encourage them to get in touch.
Reviews, reviews, reviews
Students and parents will have found you, read your business description and got your contact details but before they get in touch they will skim read your reviews – that is what you do when you are looking for a cafe to take your friends in the weekend!
Take the time to contact the parents and students you have the best relationship with. Ones you have supported for a while and are achieving fantastic results and ask if they could write you a short review on your business listing.
Online reviews play a large role in gaining potential customers' trust and have been shown to impact organic rankings. Make sure to respond to all reviews in a professional and thoughtful manner to show that you engage with your customers.
Do you have a Facebook business page?
If you do you Facebook to promote your music teaching studio you can embed your Facebook reviews on your website, checkout our article!
Lastly create and share stories on your listing
Google My Business lets you publish your events, products, and services directly on your listing. But rather than think of them as another marketing feed, share your stories of the week, student successes or even new music you are checking out. This could be in the form of a short video of you playing or just a written post about the tunes your are currently teaching your students.
To create a post, simply go to your dashboard, click on "Create post".
Google also provides information on the number of impressions and clicks generated from each post. Users can now also view post insights for individual posts, all posts from the last week, and all posts from the last month.
Need more help?
Along with promoting teachers on our top ranking music teacher directory we also support teachers develop their marketing online. Please get in touch and we can look at your business listing and offer you more targeted advice to help you build your music studio!
Why join a Music Teacher Directory?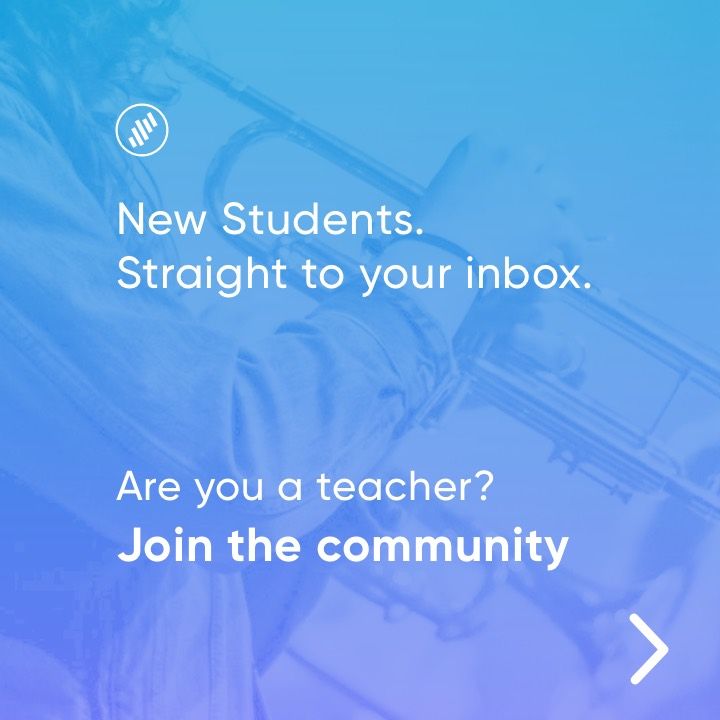 That is why we launched Sydney Music Teachers Online, a directory that offer all these parents and students searching for a music teacher a place to compare, find and contact a teacher.
No long google searches or trudging through various music teacher websites.
We believe we are promoting some of the most talented music teachers in the city and sending them these student enquiries for a fraction of the price above.