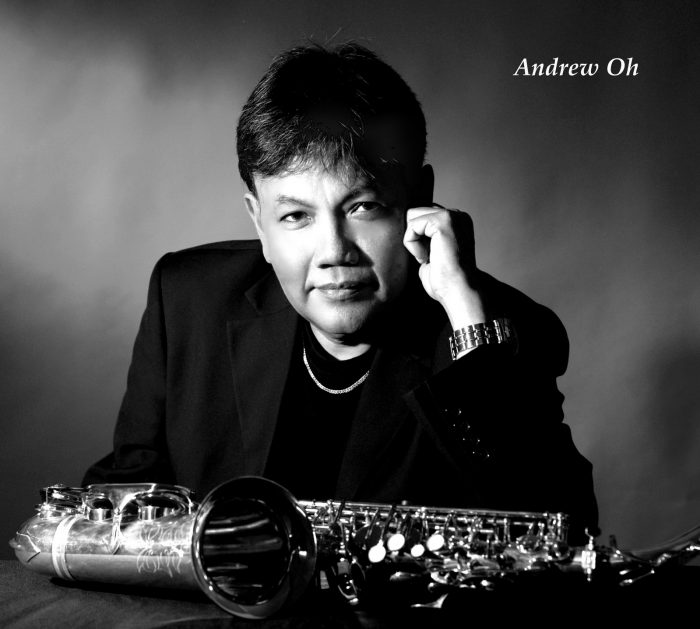 42 Rednal Street, Mona Vale NSW, Australia
will travel to you please enquire.
Saxophone Lessons | Flute Lessons, Percussion Lessons | Artist development, Jazz Improvisation Lessons, HSC Music Exam Preparation, Skype Lessons, Online Lessons
---
Qualifications:

B. Mus (LRSM)

Pricing:

$100 per hour / $75 - 45 mins. / $50 - 30 mins

Styles:

Classical, Jazz, Blues, Rock, Contemporary, Funk

Suitability:

From 10 years onwards
---
Bio
Andrew Oh is a Singapore born Australian stands out as an extremely accomplished Saxophonist and Flautist of international standard. His musical background spans over four continents. Andrew spent most of the 70's in Hong Kong working as a studio musician and supported many international artists like Roberta Flack, Sammy Davis Jr., The Bee Gees, The Drifters to name a few. In Late 1979 he was contracted to Italian singer Fred Bongusto for 5 years, this allowed Andrew, while in Italy to work with many musicians including American Tony Scott and Italian musicians like Romano Mussolini, Roberto Gatto, Tulio DePiscopo, Jose Mascolo, Zucherro and many other top musicians. During this period Andrew also taught music at Milan's highly acclaimed school of Arts & Drama, Centro Teatro Attivo.
Since his arrival in Australia in the mid 80's, Andrew has performed and recorded with Australian artists such as Tommy Emmanuel, Margaret Urlich, Marcia Hines, Daryl Braithwaite, Grace Knight, Anthony Warlow, Doug Williams, Doug Parkinson, Christine Anu and many others. In Australia, Andrew also supported international artists such as John Denver, Al Jarreau, Cher, The Supremes, Thelma Houstan, Elaine Page, Alfio, Patricio Buane and Josh Groban. Andrew has been involved in many musicals including The Blues Brothers Show with Russell Crowe, George Washingmachine & Simon Westaway, Jesus Chris Superstar, Grease the Musical, Fame the Musical, SHOUT with David Campbell.
Andrew has released two solo albums, one recorded in Sydney with Devine Music entitled "SILK" and the other self-titled album recorded in Nashville through Honest Entertainment. Both albums received excellent reviews and extensive airplay locally and internationally. Andrew has also released a CD in China with the collaboration of Anders Nelsson through a record company Mutual Chords Record Company in Guangzhou. In 2012 Andrew recorded an album with Perry Martin in Hong Kong, which was released in late 2013.
Currently, Andrew teaches music in Sydney and performs regularly at nightspots, Jazz festivals and travels extensively for performances with his band all over Asia to promote his brand of music.
---
Teaching Info
Philosophy of Teaching Music
I believe in giving each individual pupil in music an opportunity to measure his / her actual capacity and aptitude.
To fully realise the magnitude and significance of individual differences in my pupils.
To give my pupils an opportunity to grow, each according to his / her talent.
To keep the pupil at the highest level of successful achievement.
To justify praise or correct the pupil.
To motivate my work for each individual.
To help my pupils to find himself / herself musically.
To take into account the individual as a whole: talent, intellectual, moral, attitude and influences.
The learning process in music involves two primary aspects, acquisition and retention of musical information and experience and the development of musical skills. Both of these are included in the common use of the term "memory". Thus, we have conscious memory, which is the making available of stored information and experience, and subconscious or automatic memory, which is a phase of habit, such as exhibited in all the types of musical skills in performance.
Musical memory is a talent that is measured in vastly different degrees, the differences being greater for this special capacity than for memory capacity in general. One student may have more than a hundred times the capacity of another for learning music. Yet this ability, both in the gifted and in the less gifted, is capable of an astonishing amount of improvement by training. Training in the art of learning can accomplish incredible results.
The psychology of music on the whole begins with and centres on performance. Successful performance rests upon the mastery of fundamental skills that may be isolated and acquired as specific habits, but in the artistic performance, these skills should be integrated so that there is no consciousness of habits, skills or techniques.
Appreciation of music is not primarily of guidance. It is rather of providing facilities, motivation and best of all, different forms of participation that makes the pupil feel that music is in him / her, because appreciation is ultimately a form of expression.
The guidance in music should recognise the countless types of outlet possible in music and the countless possibilities for finding the equivalents of music as an artistic outlet in other fields. Determining into which of the musical directions the individual will best fit so that after a general training in the fundamentals of music, his / her energies may be wisely directed into voice, instrument or theory and within each of these fields into a particular avenue for self-expression.
Andrew Oh – Teaching Syllabus
Beginner Level:
A comprehensive, lesson by lesson method covering different aspects of Saxophone or Flute playing, with special emphasis on Embouchure, Posture, Tone Production, Basic Scales, Arpeggios, Sight Reading, Complete Fingering Positions, Breath Control, Basic Music Theory and Care Of Instrument. 
Elementary Level:
This level is an extension of the beginner level with further development in the Tonal Concept, Rhythmic & Melodic Studies, Articulation, Syncopation, Technical Development, Intonation (Discrimination of Pitch), Sense of Time Keeping & Rhythmic Co-Ordination, 
Chromatic Scale & Modes, Music Theory and more Sight Reading.
Intermediate Level:
This level concentrates on studies that has been dealt with in the previous levels but with greater difficulties. The level of difficulty increases for exercises and musical pieces, focusing on more complex rhythm and in more extreme registers of the instrument. 
The introduction of Basic Improvisation with special attention to the Blues, Various Approach to Styling and the introduction of Modes like Dorian and Mixolydian.
Topics being dealt with are as follows:
Compatibility of Mouthpiece & Reed combination, More Advance Development of Technique (Speed), Extreme Registers; Fingering and Execution, Expression, Dynamics, Tools for Phrasing, Movement & Breath Control, Vibrato, Single/Double Tonguing, Basic Harmony, Chord Symbols, Scale relationship to Chords, Pentatonics and its application, Integration of the Major, Minor & Dominant Scales in Improvisation. More Advanced Sight Reading & Music Theory.
Advanced Level and Beyond:
From this level onwards, there are NO limits to challenges or duration of time, its an infinite study of the acquisition of knowledge. Concentration will be in Performance, Interpretation, Advanced Phrasing & Articulation, Tools for Expression, More complex Improvisation, Ensemble Playing and Performing as a Soloist. These will be an on going quest to achieve the highest level of performance possible for the individual.
Some of the topics covered in this level are in Development of Patterns & Phrases, Tension & Release, Advanced Tonal Studies, Developing Speed, Understanding Chords & Progressions for Improvisation. Ear Training, Developing Creativity, Performance Repertoire and finally Doubling (the playing of more than one instrument and the discipline required to achieve success)
*  Please note that the program presented above applies more to playing and studying Jazz, Blues, Rock and Contemporary styles. If studying Classical Flute or Classical Saxophone is needed, a different syllabus and repertoire would apply accordingly. Usually a combination of Jazz and Classical music is taught unless specified by the student.