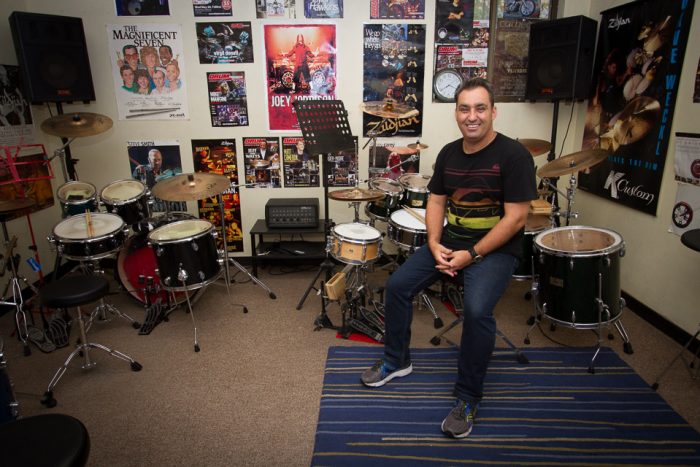 11/23 Oaks Avenue, Dee Why NSW, Australia
Drum Lessons
---
Qualifications:

Certificate 4 in Music and Graduate of Camperdown Academy with over 18 years teaching experience

Pricing:

$33/half hour or $60/hour. $330 per term for half hour lessons or $510.00 per term for hour lessons

Styles:

Latin, Jazz ,funk ,Rock ,Blues

Suitability:

any
---
Bio
Brad Hobbs has taught drumming for over 18 years and in the local area for the past 15 years.
Brad studied music at the School of Creative Arts (Oxfords Falls campus), majoring in Percussion and Music Ensemble. From there he studied and tutored under the leadership of Chris Brien at the Chris Brien Drumming School. He continues to expand his knowledge and skills under the tutelage of Tubby Wadsworth from Camperdown Music Academy majoring in Jazz and Funk styles. He also regularly appears with session musicians from the local area playing the music he loves.
Brad's passion for drumming is obvious and it resonates in every lesson, regardless of his student's age or ability. He makes every session fun and challenging and his students always want to come back for more.
Brad is Child Protection Certified.
---
Teaching Info
Drumming and Cajon Lessons
Brad specialises in beginner lessons but can teach all levels and age is no barrier – from 4 years old to 104 – Brad will make your session fun and challenging. Individual lessons and groups up to 3 people are available.
Funk, Latin, Jazz and Rock styles are embraced. Lessons also encompass music reading, rudimental skills and independence control.
Sessions
Lessons can be 30 minutes or 1 hour.
(Very young students may only last 15 minutes and usually share a session with a sibling.)
Lessons are available during the following periods:
Monday: 10:00am – 2:00pm &
3:30pm – 8:00pm
Tuesday: 3:30pm – 7:30pm
Wednesday: 3:30pm – 8:00pm
Thursday: 10:00am – 2:30pm &
3:30pm – 8:00pm
Friday: 3:30pm – 7:00pm
Saturday: 9:00am – 3:30pm
Pricing​
DRUMMING LESSONS
1 on 1 lessons – $33 per 30 minutes
2 students at a time – $25 each per 30mins
3 students at a time – $20 each per 30mins
CAJON LESSONS
1 on 1 lessons – $30 per 30 minutes
2 students at a time – $25 each per 30mins
3 students at a time – $20 each per 30mins
BLOCK PAYMENTS
10 x 60min lessons – $510 Save $90
20 x 60min lessons – $1020 Save $180
Details​
At least 4 weeks/sessions must be paid for in advance. Discounts only available for block payments of 10 or more lessons.
Up to 2 make up lessons available per term if more than 24hr notification given. Lessons cancelled on the same day are forfeited.
Drum sticks are included!
I only started attending lessons 6 weeks ago but I can already see a huge improvement in my abilities. Brad's energetic character, crazy talent and extensive knowledge in drumming has really motivated and inspired me to progress as a drummer. I would recommend Brad's Drumming to anyone and I'm excited for the continuing future drumming lessons. Thanks Brad!
Jess
My son has been attending Brad's Drumming for the past 8 years. Brad is a very talented drummer and a great teacher. The skills and knowledge he has taught my son gave him the confidence to join the school Jazz Band, Concert band, lead the Percussion ensemble and perform solo drumming pieces. He has taught my son many drumming skills in areas such as jazz and latin and these have all greatly improved his skill levels in all areas of drumming. Brad is a very reliable teacher and I would highly recommend his drum school to anyone interested in learning the art of drumming
Michelle
To All People Out There That Want To Learn Drums. Does not matter what age you are (I am of the senior) Brad is a great instructor. I also know some of his students and the rapport he builds with them is fantastic. He is very dedicated and explains things extremely well. I did not start learning the drums until 18 months ago and I am well over 50 years old. Brad gave me the encouragement and determination to learn. I've never read music before but I can now read drum music and am capable of playing along to some tracks I really enjoy. I thank you Brad Hobbs for persevering and being patient with me.
Paul