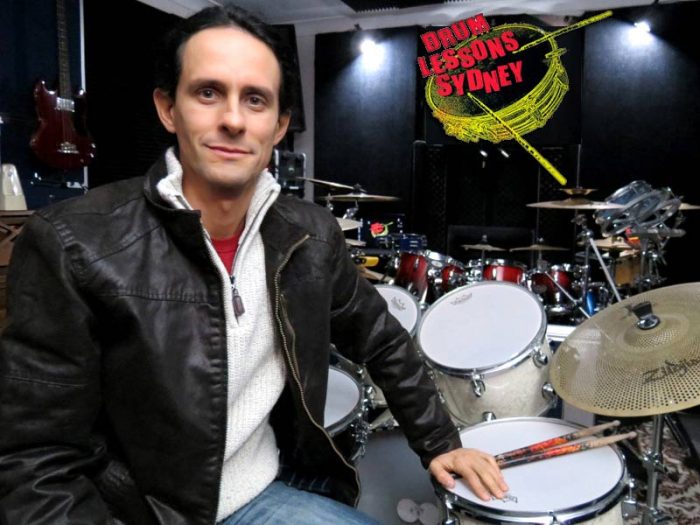 11 English Street, Woolooware NSW, Australia
will travel to you please enquire.
Drum Lessons | Skype Lessons, Online Lessons
---
Pricing:

30 min: $45 | 45 min: $60

Styles:

All major styles, including Latin and Brazilian rhythms

Suitability:

From 3 years old.
---
Bio
Claudio Reis, the founder of Drum Lessons Sydney in the Sutherland Shire, has been in the music scene for almost 3 decades performing with corporate bands and live shows in all major music styles.
Claudio and his methodology, Pegada Drum Method, have become role models for other teachers in Sydney and beyond.
Whether performing on stage or teaching, his passion for music and drumming is the driving force behind his success as a teacher and professional musician.
25 Years of Teaching Experience
Claudio started giving drum lessons 25 years ago, haven't stopped since, and plan to continue for many more years. Teaching drums is not something he does "on the side."
Claudio has taught students aged 3 to 70, all styles and all levels, always balancing technical and practical work.
Almost 30 Years of Performing Experience
Active bands:
– Lifetime metal band Twilight Aura;
– The Shire's most loved blues band 5 Blues Drive;
– Corporate band Partysonic;
– 5-star wedding band Tentrix;
– Drummer for the background band of Sydney's Brazilian Latin Dance Company show;
Local and international live acts:

Non Stop Party Band, Skyscraper (Heavy Metal), Mr. Bug (Hard Rock covers), Duo Trio (unplugged pop), Hypersonic (Pop/Rock covers), Brazilian Latin Groove, and many others covering the major music styles;
inumerous tribute bands including Dream Theater, Metallica, Skid Row, Bon Jovi, Alanis Morrisette and Elvisback;
and cover bands with huge set lists including Muse, Maroon 5, Blink182, AC/DC, Foo Fighters, RHCP, Van Halen, INXS, Green Day, EWF, Jamiroquai, Beatles, Coldplay, Queen, Santana, MJ and so on.

At the age of 20 Claudio was unanimously voted the best drummer in a 2-day music festival.
Four years later, his former pop band New Jersey was elected the best band in the English Culture Festival of Brazil.
Claudio was the drummer chosen to help compose and to record the CD T.V.lization for the heavy metal band Skyscraper, mastering the complexity and challenging speed of their songs.
Methods he studied
Fundamentals, stick control, rudiments, techniques, dynamics, grooves and fills from private drum lessons.
Carmine Appice drum methods.
Carmine Appice literally wrote the book on rock drumming, has received many Lifetime Achievement awards from the music industry, and influenced John Bonham.
Joe Morello and Gary Chaffee methods.
Duda Neves method for Brazilian rhythms.
Double Bass Drum techniques from the best international drummer in NY 2003.
Attended master classes of Virgil Donati, Thomas Lang, Benny Greb, Mike Portnoy, Will Calhoun (Living Colour), Gene Hoglan, Sonny Emory (EWF), Tony Royster Jnr, Marco Minnemann, Pete Drummond, Vera Figueiredo, Charles Gavin and Duda Neves.
Pegada Drum Method
Claudio and his syllabus have become role models for other teachers in two continents.
Learn more about Pegada Drum Method.
---
Teaching Info
Private adult and kids drum lessons cover:
Solid base for present and future development
Fundamentals of Drumming
Drum Rudiments
Stick Control
Hand and foot techniques
Drum music theory made easy
Songs, drum beats and fills
Learn any songs you want
Try some of the hundreds of songs we'll suggest
Develop a vocabulary of drum fills
Rock, Funk, Metal, Blues, Latin, Reggae, Jazz and more
Limiteless drumming patterns combinations
Supervised timekeeping and speed practice
Learn how to become a solid drummer
Impress other musicians in any audition
Measure stick control improvement
Measure speed improvement
Drum like your idols
Dynamics, groove and swing
Become a versitile drummer
Adapt to any musical genre
Make your audience dance or headbang
Learn how to groove like a pro
Construct linear grooves
Use of less conventional accessories
Double kick
Tambourine
Cowbells
Jam blocks
Bongos
Advanced coordination on the drums
Limb independence
Cooperative training of non-dominant limbs
Open-handed possibilities
Elimination of weaknesses
Who can attend 
All ages and levels welcome. Private drum lessons in Sydney tailored for you to learn efficiently based on customised practice.
Much more than Rock beats and fills 
Learn how to play any music genre creatively, including Rock, Funk, Metal, Blues, Pop, Jazz, Jungle, R&B, Reggae, Latin and Fusion.
Claudio is a friendly, patient and passionate drum tutor with over 20 years of teaching experience who will always take into consideration your learning style.
One certificate per grade level 
With the highly effective Pegada Drum Method it's guaranteed that every beginner learns how to play. If you are in an intermediate level, you improve the way you approach your traditional study methods, learning something new every session.
The Sutherland Shire drum studio 
Two quality quieter drum kits, air conditioning, PA and Wi-Fi to enhance students' learning experience.
Pegada Drum Method for drum teachers 
Contact Claudio directly if you are interested in purchasing Pegada Drum Method or being trained to use the methodology with your students.
Whilst playing regularly in cover bands for many years I had not committed any time to practicing or improving my skills. Returning to drum tuition with Claudio at Drum Lessons Sydney has given me the ability to eliminate bad habits and rebuild my skills from the ground up. I am now practicing daily and my coordination and technique have improved significantly in only a short period of time. I highly recommend Claudio for tuition of drummers at any level of playing.
Travis Joyce
I have been learning drums from Claudio for roughly 7 years. He has consistently and passionately taught me how to play everything from jazz to metal, teaching not only how to read music, but also how to feel the rhythm and how to improvise. He is also very patient - I started when I was a little kid , and I would more often than not stray off track. Claudio remained patient with me, and with his steady guidance, my drumming developed into something special. I owe all to him, and that's why I'm giving drum lessons sydney a 5 star review.
Jensen Martin
Learning an instrument is intimidating and challenging, Claudio has every skill to make you meet those challenges but in his friendly and supportive approach. His talent to teach shines through the love he has for playing drums equal to his love for teaching. Ive been a student of him for a while now and had to stop due to work commitments, highly recommend him. Dont believe me? Go see him play. Hes incendiary. Incendiary.
Matt Steele
I started my weekly lessons with Claudio a few years ago (in my mid-fifties). I had never played the drums before but found Claudios website and opted to book an introductory lesson which I really enjoyed. I feel very blessed to have chosen to learn with Claudio as his style of teaching and his methodology have enabled me to see my progression from the Fundamental to the Intermediate level. Claudio keeps each lesson varied and with the right amount of challenge. I find it a great brain and coordination workout and would highly recommend Claudio for drummers of any age or ability!
Jo W
I started learning the drums with Claudio a few years ago with zero experience. He has a great program that starts with the fundamentals and builds on that to make you a complete player. I love the challenge and the lessons are a great way to become a complete player. I've still got a long way to go, but I now jam with friends and learn my favourite songs. Claudio is very patient, knowledgeable, experienced (as a player and teacher) and always positive.
Thomas Onus
Claudio is a champion! It's been a dream of mine for years to learn how to play drums and with his teaching I am finally getting the hang of it.
Mike Benkovich
I have been learning drum for more than 2 years now and I am still enjoying it. Claudio is a great teacher, always positive and very patient, with a good sense of humor. He also is among the cheaper teacher in Sydney. I go there every week and its always been a great moment. You will know how to play your favourite song faster than you can expect and for that I highly recommend him.
Pierre Osteil
Having no previous drumming experience I have been taking lessons from Claudio for a few months. I had an intro lesson and was instantly hooked. I have so much fun during my lessons - Claudio's method always keeps things interesting by mixing musical and technique exercises. I am amazed at how fast I have progressed under Claudio's teaching. Learning the drums is a real joy because of Claudio's guidance. I would highly recommend Claudio to anyone wanting to learn drums.
Jacqui Gray
Claudio helped me build the confidence I needed to become a professional drummer. After a few months improving my techniques from his lessons, I signed a contract to play on a cruise ship in Europe.
Geison Costa
I've been taking lessons with Claudio for over a year. He is showing rigour and patience to really help improve my coordination and to open up to new beats, patterns and influences. I'm delighted to have him on board of my current musical project. I highly recommend him as a drum teacher.
Guillaume Deront
I had Claudio as my drum teacher for almost two years. He taught me more things in a year than I learned in the 4 previous years of dum lessons in Sydney. My coordination and understanding about rhythms increased enormously, and all this was fun mixed to serious and methodical teaching.
Alex Garnier
After a few years playing drums in Sydney, Claudio showed me some different drumming styles, and I chose him to teach me how to play drums properly. He's very patient and teaches me according to my skill level. The private drum lessons in Caringbah are cool because the focus is on me. He showed me fundamental exercises that have become very important for the creation of my own fills. So stoked I found this guy! I'd recommend him to anyone looking to further develop their drumming skills.
Gareth Hemara
Fantastic teacher, very nice and helpful with great knowledge and patience,my son had a big progress under his instructions. Strongly recommend for this teacher
Chen Kevin