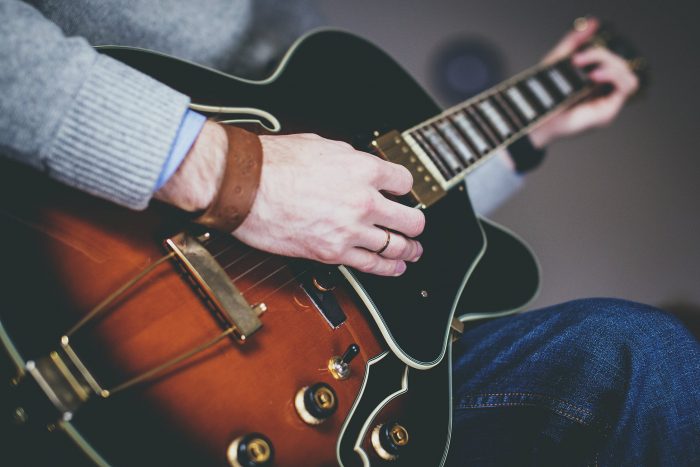 1/67 Jacaranda Avenue, Bradbury NSW, Australia
Guitar Lessons | Clarinet Lessons, Electric Bass Lessons, Keyboard Lessons, Piano Lessons, Saxophone Lessons, Singing Lessons, Ukulele Lessons | Aural Lessons, Theory Lessons, Composition Lessons, Jazz Improvisation Lessons, HSC Music Exam Preparation, Skype Lessons, Online Lessons
---
Qualifications:

B.A. Music, Cert IV training and Assessment, Tafe "Vital" Teacher Training

Pricing:

$35 per 30min lesson...$60 per hour lesson

Styles:

Blues, Jazz, Fusion, Prog, Metal, Classic and Hard Rock, Pop, Country, Bluegrass, Social playing, Soul, Funk, Neo Soul, Reggae, Theory, Composition, HSC Preparation

Suitability:

ages 10 and up
---
Bio
* I'VE GIVEN OVER 70,000 LESSONS OVER 35+ YEARS OF  PROFESSIONAL TEACHING!
* I HAVE OVER 40… 5-STAR REVIEWS ON FACE BOOK AND GOOGLE
* This is what I do for a living and have done so for the past 35 years.
* I have also worked as a PROFESSIONAL musician…. (Guitar, Bass, Sax) and bring real world experience to my students. When I say professional musician I mean wage earning, mortgage paying income…playing around the Sydney scene as a hired gun/freelance player. That's thousands of paying gigs
* I am Qualified……Backed up with decades on on the job experience.
1 B.A. Music UWS Nepean (with distinction).Majors in Performance and Recording Engineering. GUITAR, SAX, BASS
2 Workplace Training and Assessment Cert IV
3 TAFE "Vital" Teaching Modules1-4
I HAVE TAUGHT AT:
• St Pats College Campbelltown (Instrumental tuition)
• Liverpool Boys High (Wind ensemble)
• Cabramatta High school (Instrumental tuition)
• School of Guitar Technology Liverpool (My own School)
• Miller T.A.F.E. (Recording engineering)
• Somerset Music Narellan (Instrumental tuition)
• Music for Seniors ( Liverpool council)
• Cross Connections Project (Cabramatta council)
• Skills West Training company Penrith (I.T Cert III and Business Admin Cert III)…To name just a few.
EBS could best be described as a personalised, boutique music school.
I mainly teach adults all ages, levels and styles. I concentrate on developing real world skills that will allow students to be successful at auditions, jam sessions and open mic nights, or just be a good social player for fun at a family get together. ….
I teach social players to the same high standard as my more career orientated students.
I don't teach bits and pieces of songs or party pieces; I concentrate on helping the student develop the kinds of skills required to play in the modern music industry.
Learning bits and riffs of favourite songs is just entertainment, not tuition…and I see a lot of this when I take on students from less experienced teachers or people who have tried to teach themselves from the net or video.
I teach a lot of adults who have found it's far easier than they thought using my methods.
A lot of adults suffer from the "I'm too old" syndrome….. but I'm here to tell you that adults make great students. They're more focused than kids, and understand that if you put in a bit of work you will be rewarded.
Social playing is a very valuable stress reliever. People come home from a stressful day, pick up a Guitar, Ukulele or Mandolin and play….. and an hour later all the troubles of the day seem far less important.
It's important for any musician to play with other people, and that is why I've started my playing workshops in Campbelltown for the 1st time. This is a chance for players to "hang around in their musical underwear" so to speak!
It gives them the opportunity to try new things, test their capabilities, make mistakes and try a thing over and over till they get it right. This is done in a private, supportive fun and creative environment.
This gives musicians a chance to polish and refine their skill before they perform on stage or attend an audition.
AND IT'S A LOT OF FUN!!!
---
Teaching Info
I have an organised lesson plan that I tailor to each student's interests as they progress. I don't waste your valuable lesson time scribbling things out on random bits of paper. I have written and self published 5 guitar methods, from beginner to advanced level….Covering a wide variety of styles.
When you learn from me you get my 100% attention…. I don't make phone calls, surf the net, play computer games or do  my scale practice while you're playing. (believe it or not this has happened to a lot of students before they came to me)
I'll be there every week; I won't go off "On Tour", or get a day job and put in a succession of inexperienced teachers as substitutes. I do this for a living, not for pin money after work or Uni.
Experience and knowledge count….even if you are just a beginner. I have developed my own methods and techniques to overcome the problems that beginners face. Get it right the 1st time and you'll never struggle or have to go back and correct anything later on.
I only give one on one private lessons..NO CLASS LESSONS
Please don't waste your child's enthusiasm and your money on class lessons. They don't work.
Many students have been in these programs for 1-2 years and can't play a note….only make noises. I've seen this many, many times. These greedy corporates and franchises have zero interest in your childs progress…..they are all smoke, mirrors, and hype.
I have a Current Working with Children Check (WWCC)
I teach skills…..My goal is to give you the skills to teach yourself….long after you have finished lessons.
I'm organised, experienced, good humoured, reliable, qualified,….AND THE BEST :-)…..not the cheapest.
PLEASE TAKE THE TIME TO READ MY TESTIMONIALS BELOW
(more on my FB & Google sites)
I have been taking lessons with Bob for nearly a year now. As an older student (>50), I find Bob adapts his teaching style to extract the most he can from me. He coaches and teaches and pushes and challenges. In my opinion, he uses very sound teaching methods and ensures the building blocks are in place to create a solid foundation to move to the next level. As a pro muso, he brings a lot of practical experience to the sessions. I enjoy learning some of the "real world" knowledge he shares that has been gleaned from years of band experience. Highly recommend EBS if you want to get some serious music skills and knowledge.
Tony
By far the best guitar teacher I have ever been too! I have been to several teachers in the past, and none of them compare to the quality of Bob's work. You can tell by his unique teaching method that Bob takes an extreme amount of pride with his work. He deserves the five out of five review
Jacob
I had played guitar for the last 35 years and was stuck in a rut. I have found Bob to be a great teacher and i feel my skill level and understanding of what im playing has improved 10 fold in the last year. Highly recommend .
John
I wanted to advance my guitar playiing skills from the level I'd remained at for the last 15 years. I knew that I needed to be challenged but I also knew I needed structured guidance in order to logically progress my skills. I also needed a teacher who would take into account a 57 year old's ability to learn new tricks and the sometimes limited time available to fit in solid practise. I did some research and came across Bob's website and gave him a call and explained my goals and current skill level. After talking with Bob I felt that I had found a tutor who would be able to identify my skill gaps and structured a tailored program to suit my level of experience and goals. In terms of progressing my guitar skills it was the best move I could have made. Bob was able to quickly put me on a pathway to reach my guitar goals in a logically progressive way. Bob is an excellant teacher who has years of practical musical experience as well as comprehensive theoretical knowldege - always willing to do that little bit more to help you reach your goals. Mark
Mark
I am 56 and have been playing guitar for 30 years with many bad habits. Bob has shown me over the last 2 years you are never too old to learn new ones. He is very flexible with my lessons due to my shift work. He motivates me and encourages me to improve each week giving me the confidence I never had. Bob is not only a teacher but has now become a friend as his was very supportive during some difficult band issues. I am looking forward to exciting times ahead in 2018 and Bob's plans for the business. Highly recommend EBS.
Bill
I've enjoyed every minute of my year with EBS. Bob is a brilliant teacher, and motivator. Often when I've not had time to practice much, I've felt a bit flat. But after my lesson, I'm all fired up to go, thanks to Bob's encouragement, and motivation. Highly recommend EBS.
Russell
Bob is a great teacher with always honest feedback[ouch sometimes] I have learnt a great deal in a short time. Would highly recommend his tution for beginners to advanced. lessons are fun and not boring scales. I go home and can jam with Stevie ray Acdc bb and all my heros after a few prep. lessons. get strumming plucking or blowing
Paul
Bob is genius of a teacher. He has many years of teaching, playing and making music and, is a true multi-instrumentalist. The area in which Bob stands out the best is in his ability to assess a student's requirements and ability and, tailor a program to suit the student - there is no standard syllabus. He is also a no BS teacher hence he is best when you are serious about what you want to learn.
Theepan
Where do I even begin, I hit the jackpot when I found Bob as my guitar teacher. I walked in thinking I knew how to play 3 chords and Bob saw right through my bad habits. Bob is a sensational teacher who personalises his lessons to suit the person, making every lesson fun and educating you as to why you need to do the practise, he doesn't just teach you songs you want to play, he takes it back and teaches you the fundamentals needed to play guitar. I walk out of every lesson inspired to learn more. Bob is one of the rare teachers who is actually all about helping you succeed in learning to play your instrument. Bob even went and tried out my new guitar before I purchased it, making sure I was getting the right guitar for my needs. I would recommend Bob to everyone as he is a sensational teacher!
Shanise
After having a decent amount of skills, but no real direction; I decided that this year I would finally get some guitar lessons. After starting and stopping a couple of times in the past, I definitely have not regretted getting lessons with Bob. I have used different guitar teaching methods and computer programs to learn guitar, but nothing beats the one-on-one time that a teacher such as Bob can offer you. I also appreciate the time Bob takes to explain the different aspects of music. Teaching a student in a well-rounded manner, rather than teaching how to hammer out some nuanced part of a complex guitar track makes better sense. I want to learn how to play guitar so I can play songs, not just learn technical skills. Bob tailors lessons to specific needs, he sets realistic goals each week for practice which are achievable. This is also important for someone that works full-time as a teacher. If you have never seen a guitar before or have some faculty with the instrument, I would definitely recommend getting lessons with Bob. The only thing you will regret is that you didn't do it sooner.
Tristan
Bob is a no–nonsense teacher who is keen to give you a solid foundation. Definitely recommend him as a Guitar teacher. (He also does a heap of other instruments including but not limited to the Mandolin, Ukulele and Saxophone)—I've learnt a lot more in the last few weeks than I have in the few years I taught myself.
Arunan
Hi there, I'm a 51 year young fella who has never played an instrument in his life. I bought a Mandolin for my 50th birthday and tried to teach myself to play it - I didn't last long, got bored and didn't touch it for about a year. I found Bob on Gumtree, he just happens to have started giving classes in my area and he is fantastic! a very patient, calm and happy bloke who shares his guitar and mandolin knowledge effortlessly. Finally I can play some cords and play to music, and my family can hear me getting better all the time. I am very thankful to have found Bob and would definitely recommend him to anyone wishing to learn Guitar, Mando, Uke and a few more. Cheers Mark
Mark
Bob is an excellent teacher, that's for sure. I came to him with zero knowledge about guitar playing only that I enjoy watching and listening to those who play guitar. Three months now with him, I've learned so much I was able to play at a family Christmas party. I have no hesitation to recommend Bob to anyone who dares to learn any musical instrument.
Aida
Bob has just the right balance of a relaxed environment to learn an instrument combined with an expectation that I practice what I learn. I want to push myself to practice more after each tuition with Bob and make good progress for the next week. Bob's method of learning the instrument and homework has made all the difference for me and you can't get the sort of expertise and correction you need from the internet. I highly recommend Bob.
Tim
Was given a gift certificate and it took me 6 months or so to build up courage to contact Bob. I am still kicking myself for missing all that time.If only my singing would improve as good as my uke playing .Looking forward to this year, thanks Bob I can now carry my uke with pride.Harry McCallum (posted on the wifes facebook thingy?)
Harry
Can wholeheartedly reccomend bob as a teacher. Very knowledgeable, passionate about teaching and patient. I have been getting lessons with bob for the last few months and feel like i have made more progress to learning guitar than i have from a year of tuition from others places within the area. Bob teaches skills which can be applied to many styles, others teach tabs which teaches just that one song. Give eaten by snakes a go and you will notice a difference in his approach from other schools within your first lesson.
Mike
I have been playing guitar for 30 years and had become unmotivated, thinking I had reached my peak. Bob Meredith has enlightened me to a new world of music and guitar playing. He is a very skilled teacher and highly competent player. I'm now feeling inspired to learn more and develop new skills on guitar and look forward to my weekly lessons with Bob
Bill P
I started getting lessons with Bob mid last year . I always wanted to be able play guitar but with family and work commitments I found it hard to find time . At 49 Bobs helped me enjoy learning and playing guitar , Never Too Late . Highly recommend EBS
Joe