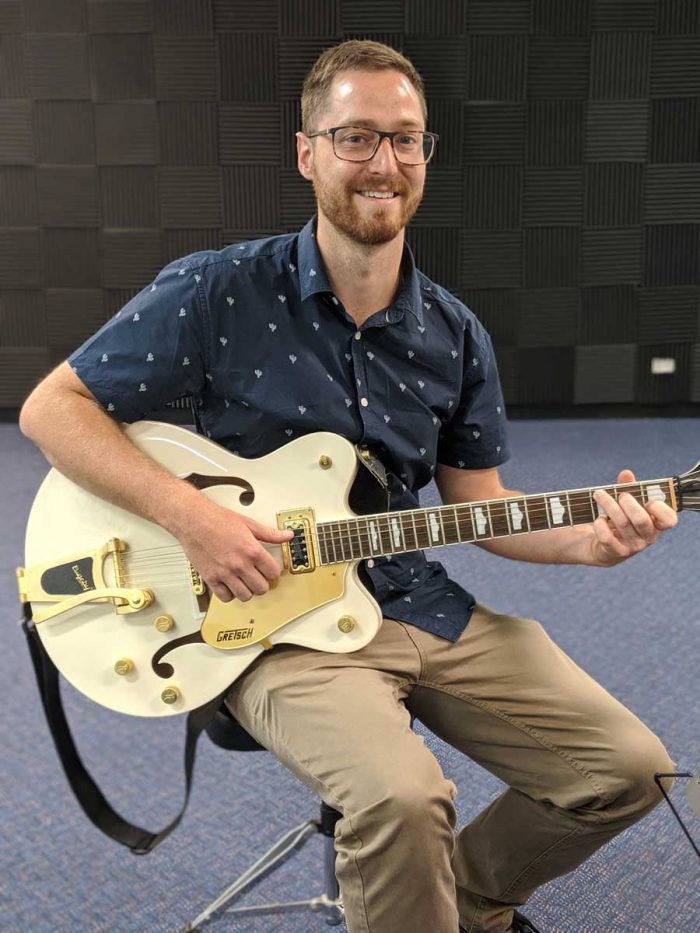 30 Campbell Street, Blacktown NSW, Australia
Guitar Lessons | Electric Bass Lessons, Keyboard Lessons, Piano Lessons, Ukulele Lessons | Aural Lessons, Theory Lessons, HSC Music Exam Preparation, Skype Lessons, Online Lessons
---
Qualifications:

Bachelor of Music (Performance) ; Accredited by The Music Teachers' Association of NSW Ltd as a teacher of Acoustic Guitar, Bass Guitar, CPM Guitar, Electric Guitar, Piano and Theory/Musicianship ; Current candidate of Master of Teaching (Primary)

Pricing:

$35/30 minutes (Free trial 30 minute lesson!)

Styles:

Fingerstyle, Rock, Jazz, Blues, Classical, Pop, Funk

Suitability:

All ages and levels
---
Bio
Mark Johnson is a music teacher and tutor in Sydney. He is a private teacher/tutor and a peripatetic music teacher in several Sydney schools, teaching guitar, piano, ukulele and bass. He holds a Bachelor of Music Performance, majoring in Guitar with electives in Piano, Vocals and Choir. He is currently obtaining his Masters in Teaching Primary. Mark employs gamification principles in his lessons, resulting in a rise in engagement and practice in his younger students. In the past, Mark has been known for his unmatched patience with students, young and old.
Mark has been teaching private and group lessons since 2011, passing his knowledge in music theory and instruments to his students. He has experience in lesson planning that caters to groups and individuals, as well as music theory, which is part of every lesson.
This year, in 2018, Mark has become the peripatetic guitar teacher at Mamre Anglican School.
In 2017, Mark became a peripatetic music teacher at Pacific Hills Christian School, where he taught private guitar and bass lessons, as well as group guitar and ukulele classes as part of their Hands on Performing Arts (HOPA) program.
For 6 months in 2015, Mark volunteered at Parklea Correctional Centre, where he offered private guitar lessons for approximately 10 inmates, as part of an initiative to aid them in their future.
In 2012, Mark offered private piano lessons at the homes of students who are in disadvantaged situations and unable to travel to a music school.
In 2012, he became a business partner and teacher at a small music school at Seven Hills. There, he offered private guitar, bass and piano lessons for students, and coached a small children's choir.
In 2011, Mark started working for Primary Music Institute (PMI), teaching group lessons for keyboard and guitar in 5 different school. Schools included St Mary's and St Minas Coptic College, Belmore South Public School, and John Palmer Public School.
Mark started teaching guitar and piano from home in 2011.
---
Teaching Info
Our Mission Statement
Johnson Music strives to provide a quality music education that is fun, engaging, rewarding and remains with a student for life. To facilitate a dynamic music education for beginner to accomplished musicians of all skill levels, bringing out the musician that lies within every student.
Johnson Music is a warm and welcoming music school where every students' musical potential is nurtured and grown. We cater to students of every level, style and genre. Students of Johnson Music leave classes feeling proficient, pleased with themselves, and with a growing passion for musical arts.
Mark is an enthusiastic teacher who encourages creativity and excitement in musical learning and performance. Johnson Music is a place where music is celebrated, and where students can grow.
Tailored Musical Learning
Every student has their own way of learning, and at Johnson Music we take that into account. We cater to each student's needs and wants with their lessons, whether is working on a single bar of music or covering an entire piece in one go. Students are encouraged to learn a variety of pieces they're interested in, as well as learning scales and arpeggios to AMEB exam pieces. Gamified learning is employed, with special consideration of the student's hobbies.
Family-run school
Johnson Music is owned and run by Mark Johnson, and the faculty is seen and treated as family. Our students' musical education is of great importance to us not only as musical professionals, but also as family members wanting the best. Your experience with us is made sure to be easy and pleasant, enjoying clear communication and excellent management and support.
Love for Education & Music
Our faculty is made of musicians who are also educators. We understand what goes into a successful musical education, and we feed this knowledge into music lessons at Johnson Music. Young students who love learning music are often seen to thrive in other parts of life. Lessons are rewarding and utilizes gamification to engage students, with our best achievement being a students' happiness.