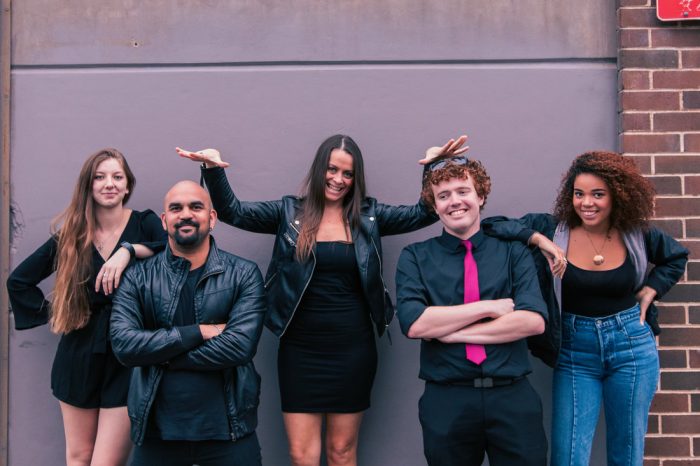 Herbert Street, West Ryde NSW, Australia
Drum Lessons, Electronic Dance Music Production Lessons, Guitar Lessons, Keyboard Lessons, Piano Lessons, Percussion Lessons, Singing Lessons | Artist development, Ensemble Coaching, Song Writing Workshops, Composition Lessons, Jazz Improvisation Lessons, Music And Movement For Under Fives, Mixing and Mastering Lessons, HSC Music Exam Preparation
---
Styles:

All Styles & Genres

Suitability:

All ages & levels.
---
Bio
It's been 10 years since we have opened Katcha Live Studio ! (2009 – CURRENT)
We opened and dedicated to teach for one reason and one reason only.  "To get you performing live"
Whether it's in front of your family, friends or other audiences we want to see you perform in confidence.
The bottom line is to be able to perform in front of many with confidence and entertainment skills. It does not matter how old or young you are, you need to be able to do this if you wanna learn an instrument.
You can be a bedroom musician or you can be a musician and have fun performing and entertaining all sorts of people.
"Entertaining your audience with the skill set you have should be your #1 priority" 
With Entertaining your audience comes "SONGWRITING & RECORDING"
"Capturing those moments" YOUR VISION DELIVERED.
We teach you a CODE in how to live by through this beautiful language in which we call MUSIC.
The satisfaction & pleasure to witness our students move forward in their individual craft  is the greatest achievement we work on day in and day out. To see them up on stage giving their 200% is immense bliss.
Ever thought of learning to Sing ? or even learn to play Guitar ? Or even do both at the same time ?
Ever thought of learning to Play the Drums? or Play Percussion? Or learn to play the Keyboard ?
Let Katcha Live Studio take the pleasure in teaching you & developing your learning into practice by performing Shows @ Live Music venues across Sydney.
Do you song write? or have you ever thought of song writing ? Well, if you do, book in to do your demos with us! If you want to learn all there is to songwriting contact us & book it in.
MUSIC LESSONS IN West Ryde SYDNEY NSW 2114  – We teach Singing & Vocal tuition, Drumming & Percussion, Keyboard, Guitar & Songwriting.
We welcome all Parents and Students to Katcha Live Studio. The Service we offer is a 'Creative, Fun and Enjoyable' experience, for students of all ages to learn to sing, play drums/percussion and a wide range of musical experiences including, Guitar, Keyboard, Song writing and a fully equipped recording studio.
Through various techniques (stage shows and recording), each student will gain, confidence & knowledge of the Music business industry both locally and internationally. As a result of this learning experience you will find you have your own unique approach! We look forward to teaching you all this year ~
Student Live Performance Shows.
We do offer the opportunity for all our students to perform in shows that we organise. These live shows are industry standard shows and a lot of work will be allocated in doing this. As a result of this we require and very much encourage all our students to participate and to come and support one another whether you are performing or not. These shows will help each and every one of you to gain immense confidence and stage presence, as it is very different to learning in the teaching studio where you have your weekly lessons. First hand experience we know and have experienced ourselves that there are 3 ways you hear yourself. 1st in the teaching studio, 2nd in a recording studio, and 3rd live stage performance. So you will understand the 3rd live stage performance cannot be taught during your lesson, but can be rehearsed.
Katcha Live Studio is a business that we are running and rules and regulations do apply. Please read the following carefully and if you have any questions please feel free to contact us on the following: (M) Kat – 0402 075 911 Cha – 0404 179 244
Like anything we want to do and master in life, it takes practice, patience and persistence. We do encourage all our students to practice no matter where they are at in their craft.
Katcha Live Studios is a Teaching & Recording studio situated in West Ryde with a client base over 60  Students a week learning Vocal Tuition, Drumming Tuition, Percussion Tuition, Keyboard Tuition, Guitar Tuition & Songwriting Tuition.
Katcha Live Studios offers all students the opportunity to perform at top class live music venues in Sydney. Some of the venues that students have performed at are Dundas Sports Club – Dundas  – The Sydney LiveHouse – Lewisham , Cat & Fiddle Hotel – Balmain – MarsHill Cafe – Parramatta – The Camelot Lounge – Marrickville, The Bayview Hotel – Gladesville – Bar Blaq – Lane Cove – Ryde Ex Club – Ryde – Parramatta Park Cafe & Event Centre  & many more venues across Sydney.
Fantastic place! Run by two of the most welcoming, lovely, talented musicians going around. Would highly recommend to any musician from beginner to accomplished.
Chris Pinto
The Best teachers, musicians, friends ever!!! Truly the most wonderful experience over the past few years , my children have grow musically and their personalities have flourished thanks to this wonderful couple!! you can see that they absolutely love their students and enjoy what they teach💖💖 We all feel like a part of their beautiful family
Leanne Nicholas
most inspiring and hard working people! forever grateful to have them in my life
Lauren Galea
Katcha provides an incredible experience to anyone, of any age group, that is wanting to further themselves musically. They provide a platform for all, not just of learning but performing on stage, in front of different crowds, at different venues....contributing to the confidence of each student. Learning these attributes cannot be taught in a class or in a studio. The world is the best place to learn! My husband and I have sent all three of our sons to Katcha and we have watched our children not only learn, but develop into capable and talented artists on their own right. If you are looking to learn vocals or play an instrument or create music of your own......look no further. My family and myself would recommend Katcha Live Studio in a heart "beat"! 🎶🎸👍
Diane Saba