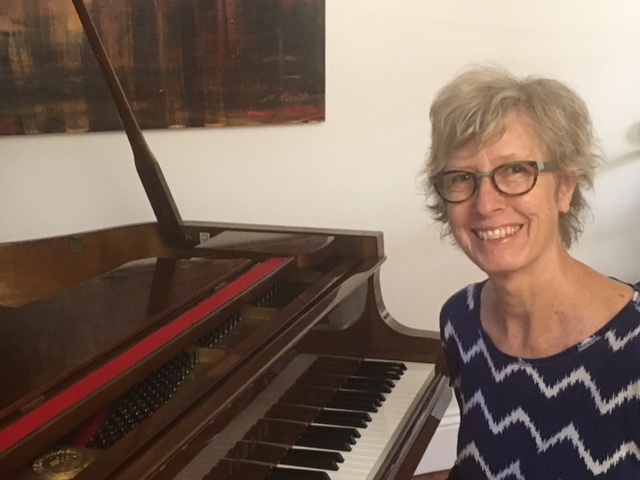 Balmain East NSW, Australia
Piano Lessons | Keyboard Lessons | Skype Lessons, Online Lessons
---
Qualifications:

Master of Music (UNSW), DSCM (Sydney Conservatorium), AMusA Diploma (Piano), Grad Diplomas in Education, Social Communications, Counselling & Psychology, NLP Master Coach

Pricing:

$90 for an hour's session

Styles:

Classical, Jazz, Blues, Pop

Suitability:

Adults only
---
Bio
I've had a career teaching music to adults and young people for 30 years. I was Head of Music in three Sydney schools, a university lecturer in music, and Senior Music Curriculum Officer writing music teaching kits for students around NSW.
I had a great piano teacher in Victoria and went on to study music at the Sydney Conservatorium of Music, where I gained my AMusA and DSCM Diplomas. I pursued further studies at UNSW and was awarded a Masters in Music. Now I play for enjoyment and relaxation, with the occasional performance at an event.
My favourite creative outlet is the time I spend with my adult students, who delight in learning about music as they develop their love for it.
---
Teaching Info
It's never too late to learn the piano or to experience playing the piano again in a new way as an adult.
I offer a unique adult learning approach that is fun, enjoyable and responsive to your needs and interests.It doesn't require years of learning the piano before you can play the music you want to play. There is always a piece of music for the level you are at.
My adult learners say my method isa new way of learning the piano, very different to how they learnt as a child, and more fun than they imagined. Adults often want to learn to play particular pieces they know. They're interested in how music works.
More information on Linda Magson Music (Piano4adults) can be found on my website: https://www.piano-lessons4adults.com.au
I had always wanted to play the piano and finally had the opportunity to take lessons as an adult. I had tried another teacher for a couple of years but found their teaching style and methods were more suited to children. Linda's approach is fabulous for adult learners and she adapts her teaching for your skills. Lessons are always enjoyable and as challenging as you want them to be on the day. Linda is the reason I have continued pursuing my goal for the last 10 years. Without Linda's approach I would have stopped lessons a long time ago.
Jane Davies
I always wanted to be able to play the piano and sing along with the melody, as this is joyful for me! Linda's approach is fun, playful, practical and meets me at my level of skill. She provides me direction of where to go next to build my capability to play music. I can now see patterns and can chunk the music into a playable form that makes it easy to learn and repeat effortlessly. If you want to reconnect with your love of music, and to make music part of your everyday life, then Linda is the teacher for you.
Eimer Boyle
I started working with Linda on an old dream of mine to play jazz piano. I had learnt classical piano via the old AMEB grade system and gave up through boredom. Linda supports a learning experience that is responsive to my background, energies and interests. Her approach is innovative and she is creative about dealing with any blocks, frustrations and old habits that aren't helpful. I'm now more spontaneous and confident with my playing. I've learnt a lot about a better way of learning itself.
Rhonda Fadden