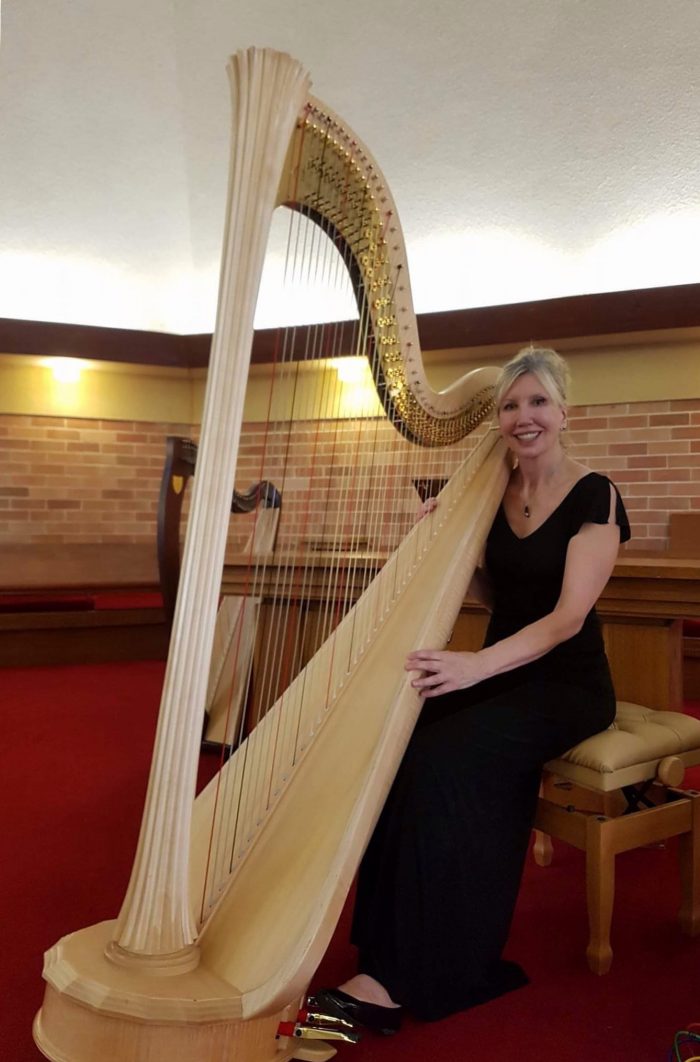 Cremorne NSW, Australia
Harp Lessons | Artist development, Ensemble Coaching, HSC Music Exam Preparation, Skype Lessons
---
Qualifications:

Sydney Conservatorium Harp/Chamber Music Tutor. ALCM

Pricing:

on application

Styles:

classical, pop, celtic, jazz: lever and pedal harp

Suitability:

all ages, all levels
---
Bio
Sydney Conservatorium Harp Teacher, Chamber Music Tutor, Orchestral Harp Tutor and Harp Maintenance Tutor. AMEB & Con Brio Examiner. Principal Harp of the Sydney Symphony Orchestra from 1985-2019. Studied at Sydney Conservatorium and the Cleveland Institute of Music. Over 50 years performing as soloist, chamber musician, orchestral player. Former Principal Harp of the Queensland Symphony. Former Guest Principal and 2nd harp of the London Symphony, the Hong Kong Philharmonic and all the Australian and New Zealand Symphonies and Opera and Ballet Orchestras, Australian Chamber Orchestra and the Australia Ensemble. Played all genres of music, and worked with numerous greats from Lorin Maazel and Claudio Abbado to Sammy Davis Junior and the Bee Gees. Music Director of Roseville Music Club, Patron of the Harp Society of NSW and founder/director of Harp Holiday and Sydney harp School..
---
Teaching Info
Sydney Conservatorium and ANU harp teacher, former Principal Harp of the Sydney Symphony Orchestra for 34 years and solo and chamber music performer for over 50 years brings her wealth of experience to anyone interested in learning/playing the harp. Beginners are welcome as are those already playing. Take lessons to learn to play, advance your technique or just be mentored in the art of performing, orchestral studies or chamber music. All styles of music are encouraged. Both pedal and lever harp tuition is available. Skype lessons available. Any age.
This is so amazing ... I get to study with Australia's Number One Harp Teacher. I am feeling stunned by your incredible generosity it is just so much above and beyond!! You are an amazing teacher and I feel incredibly blessed.
Lesley C
I have found Louise's teaching to consistently encourage me to grow technically, musically and as a young adult. She has an in-depth knowledge on the abilities of each student and how to challenge individual growth in the most effective way possible, no matter the level of advancement.
Kaela P
Louise has led me on a musical adventure for the past 15 years. It has been a journey of unfathomable passion and sentiment that has immeasurably allowed me to advance and mature to be the musician I am today. Louise has shown me the depth of her knowledge, passion and personal experience in ways which constantly encourage me to never stop achieving to the best of my abilities. She is a true inspiration.
Julie K
Louise is an endless source of harp expertise, skill and knowledge. She is also a wonderful teacher who is very intuitive, encouraging and supportive. With her assistance you will surprise yourself with what you can accomplish.
Roxanna H
Louise is a wonderful teacher! She is meticulous with musical details and her technique is impeccable. She can help make what seemed like an impossible piece totally playable and she helps to take so much pain out of practice. I've taken lessons with her since the 2000s and have always learnt so much (and am still learning so much) in EVERY SINGLE one. I cannot recommend her highly enough.
Leonard L
I have been one of Louise's student for 7 years. I couldn't imagine my life without her: I have gained so much. I have grown and improved with her incredible teaching skills. She constantly pushes me, and keeps my brain working. Louise is always there to help me, and has always assisted me in all areas of music.
Chloe C
I feel so blessed to have Louise as my harp teacher. She has an extraordinary depth of knowledge and experience as well as a sense of humour and a generous spirit. She will inspire you to bring out your best!
Vasudah H