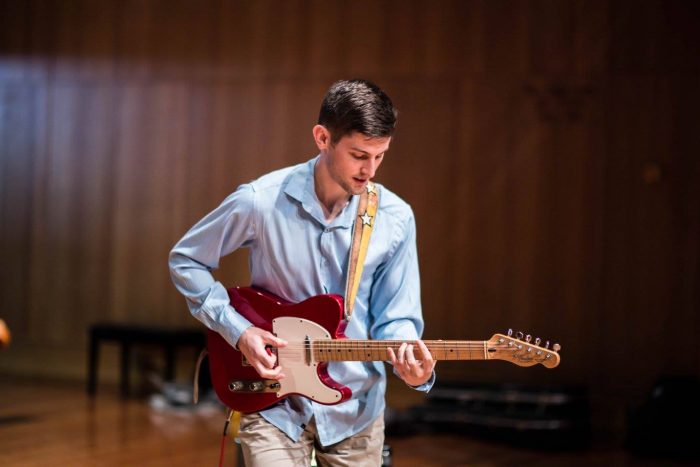 Petersham,
Guitar Lessons | Aural Lessons, Theory Lessons, Composition Lessons, Jazz Improvisation Lessons, HSC Music Exam Preparation
will travel to you within: Sydney's Inner West please enquire.
---
Qualifications:

Final Year of Bachelor of Music at the Sydney Con

Pricing:

$35 for 1/2 hour, $60 for 1 hour

Styles:

Traditional and Contemporary Jazz, Pop, Gyspy Jazz, Rock, Finger-style Guitar and various other musics

Suitability:

Age 9 to Adults
---
Bio
-Final Year of a Bachelor of Music at the Sydney Conservatorium of Music specialising in jazz
-Guitarist of Broadland Trio with Sean Valenzuela (Piano) and James Gastineau-Hills (Violin/Viola)
-Student helper at the Australian National Conference for the Orff-Schulwert approach 2018
-Composer in singer-songwriting, instrumental and electronic music
-Experience in teaching guitar to 40+ different students ranging from Yr 1 – Yr 12 (+adults) with varying musical interests, goals and intellectual needs
-Mountains Sounds Festival with Joel Leggett 2018
-Awarded 2nd place in the Zavod Classical-Jazz fusion award from Monash University in Melbourne 2017 (Broadland Trio)
-Performed with Chris Hale at the 2017 International Sydney Jazz Festival
-Practicum Placements at Bronte Public School (2016) and Meriden School (2017)
---
Teaching Info
My approach to teaching guitar is based on the strong belief of learning an instrument without shortcuts. I believe a guitarist needs to have elements of intellectual, subconscious and experiential learning. With firm roots in the foundations of becoming familiar with the instrument, my goal is to show students how to use the guitar as a tool to speak the language of music. To do this, I push my students to learn repertoire through aural and notational forms. Like in an interesting conversation, improvisation is of the essence while being literate in music notation will also provide one with the ability to absorb music faster. My ultimate aim is to produce students who are competent on the guitar while having fun through the process of development.