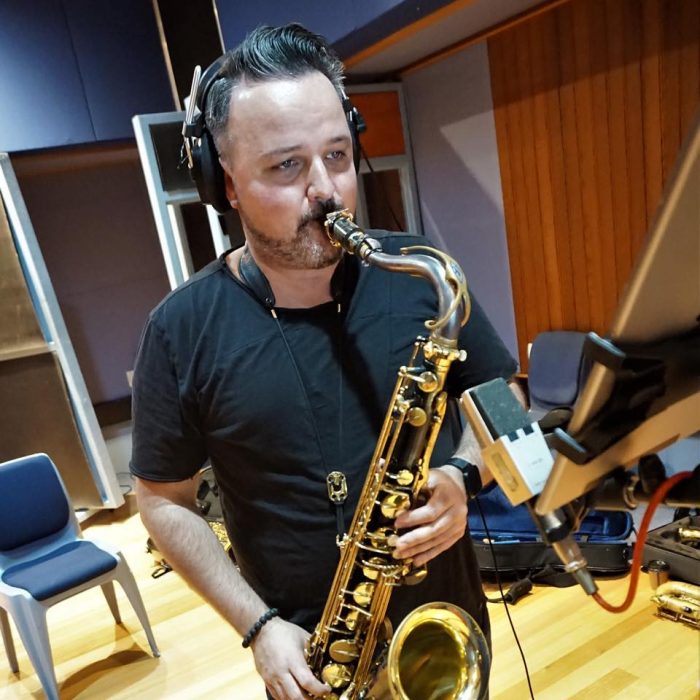 128a Pyrmont Bridge Road, Annandale NSW, Australia
Saxophone Lessons | Clarinet Lessons, Flute Lessons | Artist development, Ensemble Coaching, Jazz Improvisation Lessons, HSC Music Exam Preparation, Skype Lessons
---
Qualifications:

DMA, MMus, BMus (Hons), L.Mus.A., A.Mus.A

Pricing:

$100 per hour, $50 per 30min

Styles:

Classical, jazz, commercial, blues, musical theatre

Suitability:

All ages
---
Bio
Dr Nathan Henshaw is an internationally renowned saxophonist recognised for his ability to excel in a great diversity of genres and styles. His commitment to promoting the musical multiplicity of the saxophone has resulted in the creation of numerous new works for saxophone, across a broad range of styles.
From solo classical performances to jazz gigs, Nathan's work as a freelance musician has seen him perform with a diverse range of outstanding performers, such as Tim Minchin, Ben Folds, Randy Newman, Richard Gill, Eddie Perfect, Christine Anu, Claude Delangle, Niels Bijl, Mario Mari, Arno Bornkamp, Andy Scott and more. He has also performed with the Sydney Symphony Orchestra, Opera Victoria, Compass, Continuum Sax, Chronology Arts, and SBS Television and Radio Orchestra, Heavy Metal Quartet, Sax Summit, Sydney Saxophone Collective and Rarefied Air. He is currently Principal tenor saxophonist with the NSW Police Band. Nathan is also a member of the Nexas Quartet: one of Australia's leading Chamber Music Ensembles.
Nathan has toured extensively within Australia and overseas playing at many prestigious concerts and festivals including; World Saxophone Congress (Croatia, Scotland and France), European Saxophone Congress (Portugal), Australian Saxophone & Clarinet Conferences (Sydney, Melbourne, Brisbane), Adelaide Cabaret Festival, Australian Chamber Music Festival (QLD), Manly Jazz Festival, Sydney Festival to name a few.
He has completed a Doctorate, Masters and Bachelor of Music (Honours) at the Sydney Conservatorium of Music. He post-graduate research topics examined the use of Zen philosophy as a compositional and interpretive device in Western saxophone music (Masters) and research into the interpretive challenges faced by classical musicians (particularly saxophonists) when required to perform works in a jazz style and developing interpretive methodologies for classical players to use.
Nathan teaches and lectures in saxophone across the country. He has taught and presented various workshops, masterclasses at the Queensland Conservatorium, Sydney Conservatorium, University of New South Wales, Australian Institute of Music, Central Coast Conservatorium, Barker College, Sydney Girls & Boys High Schools (several successful ENCORE nominations and High Distinction AMEB results) and various regional conservatoriums. He also has adjudicated for various exams, auditions and Eisteddfodau such as Sydney Conservatorium, Conservatorium High School and Toowoomba Eisteddfod. Nathan currently runs a private teaching studio in Camperdown as well as teaching at Saxophone Academy of Sydney (Mosman) and at the Sydney Conservatorium Open Academy Rising Stars Program.
Nathan is a Selmer (Paris), D'Addario and Silverstein Works artist.
---
Teaching Info
Teaching Philosophy:
"As an educator, I have had many years of experience teaching and conducting students in various settings and demographics (primary, secondary, tertiary and beyond). I feel that my experience working within such varied contexts equips me with the necessary skills to help enhance any music program. In particular, my experiences working as an educator at a variety of schools and institutions have provided me with the necessary experience and skills to be an effective teacher, conductor and educator.
This experience has helped me develop a unique understanding of the needs of music students to not merely "play the notes" but to engage with a conceptual understanding of the music they perform. This level of engagement allows students to explore nuanced stylistic interpretations with a degree of freedom, while being led by someone who is cognisant of their needs as learners.
I am a patient and dedicated tutor, but with high expectations of my students. I work hard to develop each student's abilities to their highest level, while maintaining an open and warm setting in order to create the best environment for student development and retention. I often go above and beyond my role in order to enhance the student experience, organising and creating new platforms for performances, workshops, and social development. The success of this holistic approach has been proven in regular invitations to guest lecture at a number of events, most recently in regional NSW.
I feel comfortable with teaching a wide variety of musical genres. My major teaching philosophy is to help students of all ages develop a holistic approach to music – through appreciation and developing an understanding of various musical genres. Being trained as a both a classical and jazz saxophonist, I found this all-encompassing appreciation to be of great benefit to my own musical experiences and teaching. I've also been engaged as a panel member/adjudicator for various audition panels, technical exams (Sydney Conservatorium), scholarships (Central Coast Conservatorium) and eisteddfodau (Narrabri, Toowoomba)."
What to expect from lessons:
Tailored lessons suitable to individual needs and musical tastes.
Holistic approach to music – not just how to play the saxophone but also:

Musical appreciation through listening.
Develop music theory & aural skills.
Playing and working through a broad range of musical styles.
Teaching through self-directed learning methods (helping develop self management skills).

Lessons run during school terms.
Emailed lesson notes to both students and parents outlining practice for the week and feedback on lessons.
Custom learning materials (such as practice recordings).
Lesson reminders and regular communication.
Access to Henshaw Sax Studio student portal – includes resources, blog, practice journal.
Option for Zoom lessons if unable to attend in person.