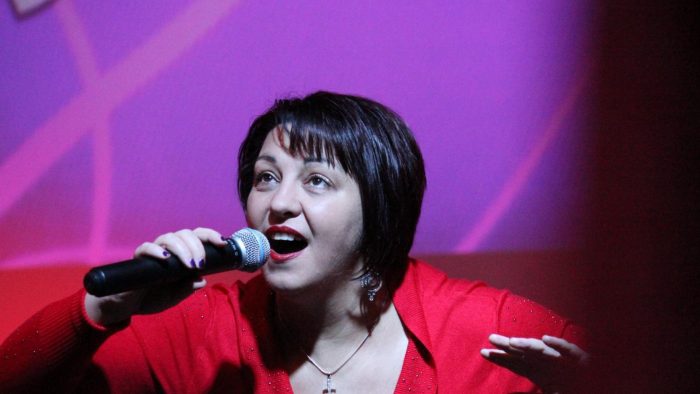 132 Somerville Rd, Hornsby Heights NSW, Australia
Aural Lessons | Guitar Lessons | Artist development, HSC Music Exam Preparation
---
Qualifications:

Associate Diploma of Music and the Conservatorium of Music , 25+ Years of Professional Music Teaching Experience

Pricing:

$90 Per Hour

Styles:

R&B, Pop, Soul, Jazz, Gospel, Worship

Suitability:

10 - 65+
---
Bio
Singer, performer, song writer
Musical Theatre, Big Bands, Choral Music,
Winner of National Singing Contests
Recorded with SONY Australia
MUSICOZ Winner
Fluent in five languages
AFFILIATIONS
Member of ANATS
Founder of New Diamond Music School, EST 2000
Music Director of Reformation Gospel Group
QUALIFICATIONS
NIDA – National Institute of Dramatic Arts
SAVA – Sydney Academy of Vocal Arts
Ensemble International de Montreal – Lead Singer
Consevatorium of Music – Majored in Musical Theatre (Bratislava-Slovakia)
Comenius University Faculty of Pedagogy (Teaching) – Bratislava-Slovakia
Advanced certificate in Office Admin – Hornsby TAFE
MOTIVATION
"Passion cannot be taught, it must be caught!"
We create a culture that has a spiritual, artistic and musical atmosphere, which Is hard to mimic elsewhere.
We offer a sense of mentorship, a feeling of guidance, love and direction in a professional environment. We help create high motivation and focus in our students through passionate teaching.
What Drives You to Be a Professional Music Teacher?
As music teachers we should all have a very clear vision for why we teach music, so we can explain as to why music is so important to both the soul and mind. But also that we are focused on achieving that outcome every time we walk into our classroom.
Here are just a few of the reasons I walk into a music classroom with joy and anticipation:
to allow the students to have fun in a safe environment.
to produce students where music is not a way of earning a living but a way of life
to allow students to experience successes and achievements.
to learn perseverance when practicing a skill, concept, musical work etc for a desired outcome
to encourage creativity and self-expression through music
to improve listening skills;
to increase concentration and focus
to build self-esteem and confidence
to help students set goals and achieve them
to improve a student's mental and emotional health
to improve memory;
Build a sense of community, help students develop social skills and develop vital team work abilities.
to assist with coordination and language skills
---
Teaching Info
We offer a very high quality professional singing/music tuition in Contemporary music (POP, Rock, R&B, Soul, Dance etc) Using the most innovative & traditional European Methods – To springboard students from amateur to Professional Status in no time.
We offer industry standard, one-on-one singing lessons designed to help you become the best singer you possibly can.
Each individual tuition or lesson is private (one on one) and each of them are fully structured to cater for each individual student. The standard format of the lessons is usually one hour/per week, or on per need basis.
Introductory lessons include a discussion with your instructor about your personal goals, an assessment of your voice type, exercises to help you with your goals, song application, or anything else you'd like to go over.
The purpose is to hear from you where you are now and how far you want to go with your singing. Your instructor will then be able to create custom-made lesson plans to benefit your goals.
We offer our students proper musicianship including complex harmonies, song structure, rhythms and beats, vocal improvisation and much more.
VOCAL TECHNIQUE
Combined with Innovative European Methods, we will Ensure you:
Will increase your range, power & endurance
Repair minor vocal chord damage
Sing in an easy relaxed style
Correct poor singing habits
Continuous vocal care
Improve musicianship
Understand music styles and harmonies
Singing Technique & Exercises (Breathing, Pitch, Harmonies, Music Styles, Improvisation & Latest Trends)
Access to Library of Huge Worldwide selection of songs
Professional quality Instrumental Backings (NO EXTRA COST)
Lyric Sheet or Music Score (NO EXTRA COST)
VOCAL EXERCISE PROGRAM
A combination of Belt and blend vocal technique for contemporary and traditional singing, harmonies, improvisation and performance.
Tailor made for all skill levels, the proven technique will ensure the best possible results at the most efficient rate possible with guaranteed results.