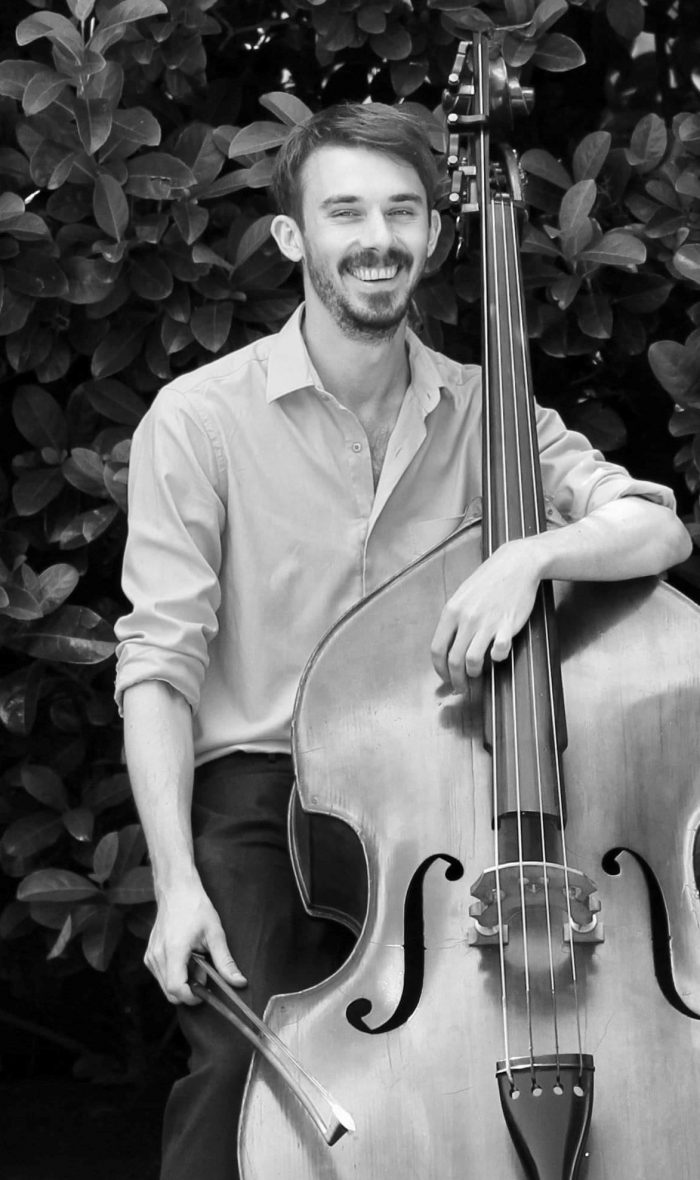 172 Johnston Street, Annandale NSW, Australia
will travel to you please enquire.
Double Bass Lessons | Electric Bass Lessons | Artist development, Ensemble Coaching, HSC Music Exam Preparation, Skype Lessons
---
Qualifications:

Master of Arts (Distinction), Postgraduate Diploma in String Leadership, Bachelor of Music (Performance)

Pricing:

$50 per half hour lesson / $70 per 45 minute lesson / $90 per hour lesson

Styles:

Classical & Contemporary

Suitability:

Double Bass: All ages, Beginner to LMusA - Electric Bass: All ages, Beginner to Intermediate
---
Bio
Available for online and in-person teaching, registered as a COVID Safe business, and as a Creative Kids Provider (info: https://www.service.nsw.gov.au/campaign/creative-kids)
Oliver has performed extensively as an orchestral, chamber, and solo musician in Australia, New Zealand, and the United Kingdom. He has performed as Principal Double Bass with Opera Australia, Auckland Philharmonia Orchestra, Royal Northern Sinfonia, Manchester Camerata, Royal Liverpool Philharmonic Orchestra, and BBC Concert Orchestra. He has performed as Co-Principal with BBC Symphony Orchestra and Opera North, and toured Europe extensively with the Philharmonia and Halle orchestras.  He was invited to perform as a soloist in the 2017 Conwy Classical Music Festival in Wales, where he performed a selection from Eight Pieces (op.83) by Max Bruch.
In Sydney, Oliver has performed regularly with Sydney Symphony Orchestra, Opera Australia, and on various film and video game soundtrack recordings at Fox Studios. On both electric bass and double bass, he has performed on Sydney seasons of West Side Story, Jersey Boys, Spring Awakening, Wizard of Oz, and Love Never Dies.
As an educator, Oliver has worked as Section Leader and Coach with Philharmonia: Come and Sing, as a classroom tutor with Halle: Adopt a Player, and has taught in the Junior Departments at the Royal Academy of Music and Royal Northern College of Music.
Oliver graduated with Distinction in a Master of Arts (Double Bass) from the Royal Academy of Music, London, and previously completed his Bachelor of Music (Performance) at Sydney Conservatorium of Music.
Please see YouTube link for videos of Oliver's performances: https://www.youtube.com/channel/UCVA1AqqrWI7nhc6ZMUp5EAQ
---
Teaching Info
Oliver's teaching services include:
-Flexible teaching hours
-Traveling to teach at your home or school (note: traveling for lessons may incur a fee depending on location, please inquire)
-Assistance in instrument hire or purchase
-Focus on bodily relaxation in solo and ensemble playing
-Preparation and application for AMEB exams, from Preliminary to LMusA on Double Bass, and Debut to Grade 4 on Electric Bass
-Individual and group lessons
Taewoo started playing the double bass in February 2020, but was forced to take a break due to the COVID-19. When he was ready to learn again, we met Oliver. We were looking for someone patient, experienced, yet fun. Oliver helped Taewoo improve dramatically in terms of technique yet still enjoy the music. After four months of regular lessons with Oliver, Taewoo performed as a finalist in the beginner category at a Strings Solo Competition at his school. With Oliver, Taewoo gained the skills to play more complex pieces with confidence and developed the love of playing the double bass.
Taewoo (Epping)
Oliver coaches with great patience and encouragement. During the first few sessions, Alvin was not used to the large instrument and mistakes were made often - however, Oliver never stopped encouraging him, which really made the difference.
Alvin (Earlwood)
Oliver has been teaching our son, Ollie, double bass for the past year and we could not be happier. Oliver is not only a gifted musician but a natural teacher who quickly developed a wonderful rapport with our son. Our son started as an absolute beginner and in the past year has quickly progressed from his school's Junior Strings ensemble to the Senior Strings. Oliver's lessons are always started on time with thoughtful planning and plenty of creative flair to keep your budding young musician engaged and ready to learn. We would highly recommend Oliver as a double bass music teacher for your child.
Ollie (Leichhardt)
Oliver is a professional and skilled teacher who is always encouraging of our son. He has always gone out of his way to assist in all aspects of playing including sizing/selection of instruments. Henry enjoys learning with Oliver and his progression within the school orchestra and exam marks reflect this. I highly recommend him as a double bass teacher.
Henry (Leichhardt)
Dean had a challenge to prepare Grade 3 pieces for an ensemble audition in 5 days only. Oliver has been absolutely great in helping Dean to achieve the target by being very focused on the objective and flexible and accommodating in arranging several lessons on a very short notice. Dean managed to master the pieces in few days without any prior practice and play them confidently during the audition.
Dean (Mosman)