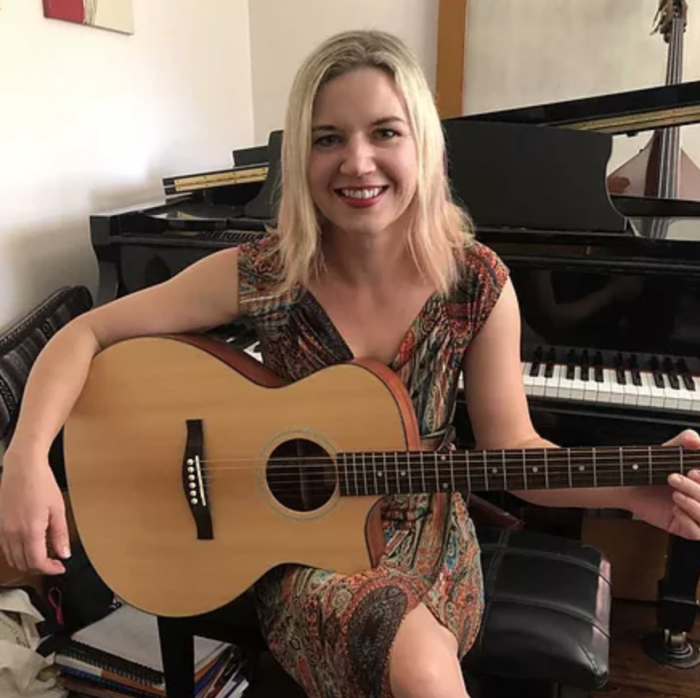 Orchard Rd, Beecroft NSW, Australia
Guitar Lessons, Piano Lessons, Ukulele Lessons
---
Qualifications:

Registered Music Therapist, Post- Graduate Masters Qualified
---
Bio
Joanna (Director/ Registered Music Therapist), has studied piano with a number of renowned pianists both in Sydney and internationally in St Petersburg Conservatorium of Music, Russia, as well as recognised composers. In 2017, Joanna won four international awards for her original music (composing), in the USA.
Joanna plays piano, guitar, ukulele, flute and percussion, among other instruments, and sings as well as composes her own music.
She holds a Bachelor of Music  (Sydney Conservatorium) as well as a Master of Creative Music Therapy (MCrMTh) as a trained Nordoff- Robbins music therapist, and is registered with the Australian Music Therapy Association (AMTA).Joanna has experience working with children, adolescents  and adults with autism, down syndrome, cerebral palsy, behavioural and learning challenges, global delay, developmental delay, sensory challenges, anxiety and more. Joanna is also experienced working in aged care.
Additionally, Joanna has over 20 yrs teaching experience and is a happily married mum of three beautiful children.
Sound Health Music was founded as a disability and music therapy service to support children through to the elderly with special needs. Music Therapy is offered in our location or your home, school or business  (mobile service) for group or individual sessions.
The philosophy at Sound Health Music incorporates a holistic, person-centered, and strengths- based approach. Every individual is viewed as a whole person, and an integrative approach to wellness, (taking into consideration a client's abilities to address their needs and goals), is always front- of- mind.
Incorporating the Nordoff- Robbins philosophy (every individual is innately born musical), we strive to connect to others through music. Our hearts beat rhythmically, and our rhythms are rhythmic and fluid, (similar to music). In fact, our cells resonate with the frequencies of music! Every one of us has the capacity to be expressive through music- and music offers the ability to relate to one another through its' universal language.
Self- expression, creativity, and client- empowerment are a foundation of Sound Health Music's philosophy, and it is our desire to assist client's to grow their self- esteem as well as improve their health, through our creative and mindful therapeutic approach.
---
Teaching Info
Music Lessons/ Adapted Music Lessons
Music lessons are available for Piano and Theory (AMEB exams or leisure), Guitar and Ukulele – for all ages, and abilities.
Adapted music lessons are specifically modified music lessons which cater for the specific, special needs of the client. While musical goals are the focus, adapted lessons are provided by a registered music therapist that understands sensory and learning differences and can provide a variety of supports to assist the client in learning the new instrument.