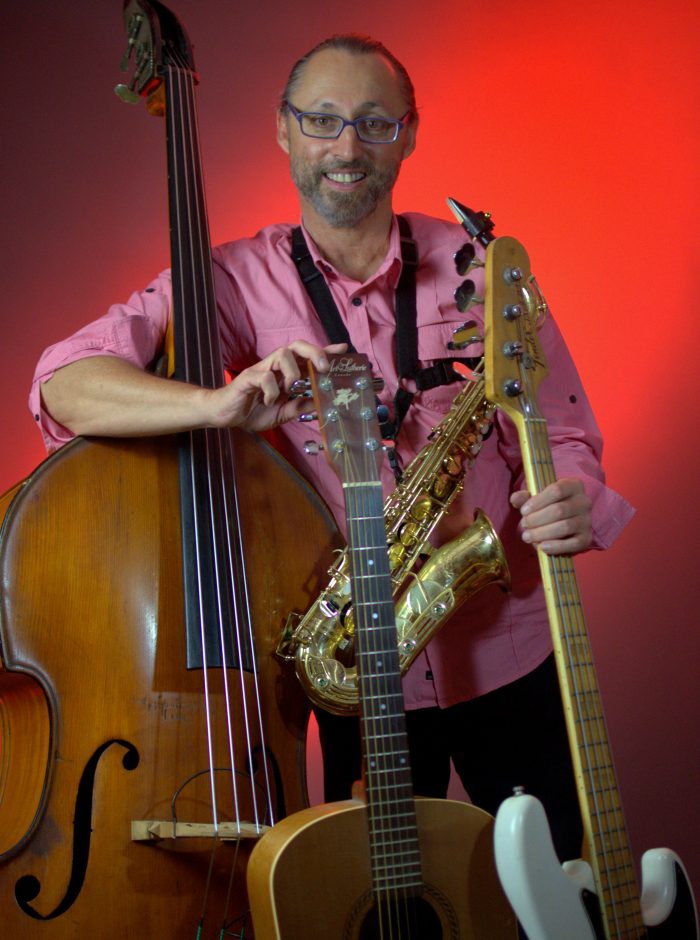 Saxophone Lessons | Double Bass Lessons, Electric Bass Lessons, Guitar Lessons | Aural Lessons, Theory Lessons, Composition Lessons, Jazz Improvisation Lessons
---
Pricing:

$40 per half hour

Styles:

Jazz, pop, rock, classical

Suitability:

All ages and levels
---
Bio
After graduating from University of NSW (BA Psychology) in 1986, Steve became involved in the Sydney jazz scene and has been a professional musician ever since. In that time he has played all styles of music. Steve has played with DIG, Dale Barlow, Bernie McGann, Ten Part Invention, George Washingmachine, Wanderlust, Pardon Me Boys, Frank Bennett, Martin Plaza, Sydney Jazz Trio, Gyan, Andy 500, Sydney Youth Orchestra, Dan Barnett, Willoughby Symphony Orchestra, MARA!, Northern Chamber Orchestra and The Real Mexico.
Steve has toured both nationally and internationally with highlights including two performances at the prestigious Chicago Jazz Festival, The Hothouse Jazz Club Chicago, The Kennedy Centre for Performing Arts (USA), Edinburgh Fringe Festival (Scotland), Ruhrfestspiele (Germany), Queenstown Jazz Festival (New Zealand) and jazz and music festivals throughout Australia.
More information can be found at http://music-lessons.net.au/
---
Teaching Info
Steve Arié is a professional multi-instrumentalist and experienced music teacher and offers private lessons in saxophone, guitar, double bass and electric bass.
Steve teaches from his home studio in Ashbury (Inner West Sydney – between Ashfield and Canterbury) and all lessons are tailored to suit the individual, their age, level and pace.
All ages and levels are welcome and Steve is happy to pursue any goals the student may have. Areas covered include practical and theory, reading, improvisation, chord progressions, etc.
Steve is a Registered Provider for Creative Kids so you can redeem your $100 voucher with him.
Music lessons are charged at $40 per half hour.
More information can be found at http://music-lessons.net.au/
"My two boys have had guitar lessons with Steve for the past eighteen months. The one thing which impressed me the most (apart from the incredible knowledge and skill of all the instruments he teaches), is his extreme caring and gentle nature and withstanding patience with the children. Many a times where I would have given up on them, Steve showed a quiet, gentle perseverance which impressed me (and which the kids responded to!). Steve's passion for music and teaching others is evident and I would highly recommend him. Over the years, having learnt music myself, I can say he is one of the best music teachers I have come across."
Maree Turner
"Steve is everything you'd want in a music teacher. He's a talented professional musician who genuinely wants you to do well and really makes you feel as if you're making progress. Steve's also incredibly patient. I massacre some of his favourite music with my squeaks and squawks (saxophone, beginner) week in, week out and still he finds something positive to say."
Anna Evangeli
"By the 2nd lesson, I was actually playing music! That's the difference when you learn from a talented musician. Steve combines theory with his own creative musicianship to tailor classes and help you meet your personal musical goals. Steve's teaching style is always positive and encouraging. I feel like I make progress every single week. I highly recommend Steve to anyone of any age who wants to take up music in the most enjoyable way."
Hebbat Manhy
"Steve is an excellent music teacher, that approaches​ music in a holistic manner that allows students to explore the instruments while having fun. My 2 daughters loved his classes, guitar and piano, and even composed a couple of songs with Steve's help. I recommend Steve to young children starting to get to know their musical talents."
Flavia Silva
"I have been learning saxophone from scratch with Steve for about two years. Steve has a deep passion in music and solid knowledge of all instruments he teaches (I was truly impressed when he figured out the notes of an entire song just by listening to it on YouTube!). Apart from a good musician, he is also a good teacher. I really appreciate his gentle and patient teaching style. From sounding the instrument in my first lesson to improvising on blue scale in my last lesson, Steve has been providing great guidance and tailored instructions to help me improve on my skills. In addition, I like how Steve teaches me some basic music theories such as chord knowledge, counting skills and music sheet notations. These knowledge enable me to work on new songs and improvise independently and get truly engaged with the music world."
Harry Hu
"I have thoroughly enjoyed learning the saxophone with Steve, and find that I'm constantly being challenged to learn something new in every lesson. I'd highly recommend Steve to anyone who is willing to learn and wants to have fun in the process!"
Sen Lin