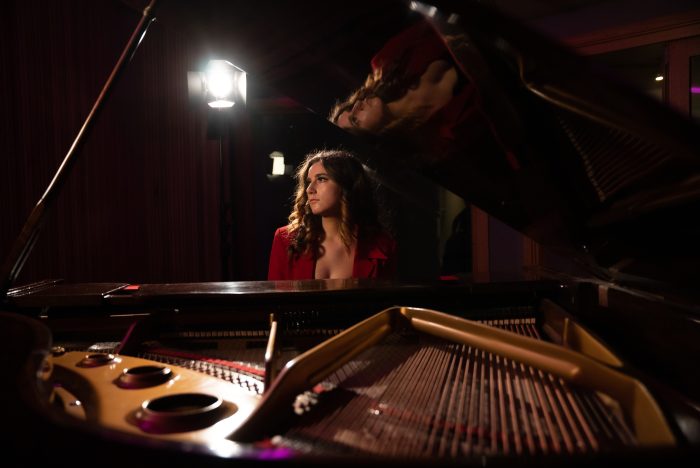 Putney NSW, Australia
Piano Lessons | Singing Lessons | Artist development, Aural Lessons, Song Writing Workshops, Theory Lessons, Composition Lessons, Jazz Improvisation Lessons, HSC Music Exam Preparation, Skype Lessons, Online Lessons
---
Qualifications:

Honours in Grade 8 AMEB Piano for Leisure, 99/100 HSC Music 1

Pricing:

80

Styles:

Contemporary, Jazz, RnB, Soul, Funk, Blues, Pop, Singer/Songwriter

Suitability:

4-27
---
Bio
Passionate about all my subjects, I'm thrilled to assist you with anything you need. Whether it's grasping key concepts, improving your marks, or even learning a new instrument, count me in!
Meet Tiana, the consummate professional—a piano-vocalist, tutor, and songwriter. With 7+ years of experience nurturing budding talents in Sydney, she has achieved musical excellence in her own studies. Tiana earned an impressive 99/100 in Music for HSC 2021, attained Honours in AMEB Grade 8, and currently pursues her music education at the esteemed Sydney Conservatorium.
Fully familiar with the AMEB syllabus and requirements, she eagerly anticipates guiding her students to excel. Tiana's lessons strike the perfect balance between fun and engagement, complemented by her valuable advice on maintaining a regular practice. Let's embark on this learning journey together!
Key Take Aways:
* Professional piano-vocalist & songwriter
* 7+ Years experience tutoring the finest upcoming musicians in Sydney.
* Excels in music studies, 99/100 in HSC 2021 including Aural, Performance, Viva Voce, Musicology Essays and Composition
* Over 10 years of piano experience, AMEB grade 8 honours
* Specializes in Speech Level Singing
* Extensive experience performing in Sydney bands
* Fun, engaging lessons with a focus on regular practice
* Online & face-to-face tutoring available
* Holds a Working with Children's Check
* Unleash your unique sound and achieve your goals.
---
Teaching Info
At the lesson, students can expect a dynamic and enriching experience tailored to their unique musical journey. I prioritise fostering a positive and encouraging environment where creativity and exploration are embraced.
Material Taught:
Comprehensive instruction in both piano / vocal techniques.
Music theory, sight-reading, and ear training to build a solid foundation.
A diverse repertoire that aligns with the student's interests and goals.
Opportunities to explore songwriting and develop original compositions.
Preparation for exams, auditions, or performances, if desired.
Teaching Style:
Encouragement of originality, helping students find their own musical voice.
Fun and interactive lessons with musical games and activities to keep the energy upbeat.
Patient guidance through challenges, fostering a growth mindset and confidence.
Individualised attention, tailoring lessons to suit the student's learning style and pace.
Open communication and feedback, ensure a collaborative and productive learning experience.
Through engaging lessons and a nurturing teaching style, students will discover the joy of music and gain valuable skills to excel in their musical pursuits. Together, we'll make each lesson an exciting and enriching step towards realizing their musical ambitions.
Tiana has been incredible helping my daughter prepare for her AMEB Grade 4 exam. With her thorough knowledge of the AMEB process she prepped Madi very well. Always providing constructive feedback my daughter excelled and achieved an impressive A grade. Tiana's dedication and nurturing approach made all the difference, and I highly recommend her as a top-notch tutor. Thank you, Tiana, for making this musical journey so rewarding!
Mel
Working with Tiana has been an absolute game-changer! Her passion for music is infectious, and it truly reflects in her teaching style which is very hands-on. Her patience and dedication to help me grasp challenging concepts, and boost my marks has really paid off. Thank you Tiana for making our lessons so enjoyable and motivating!
Molly