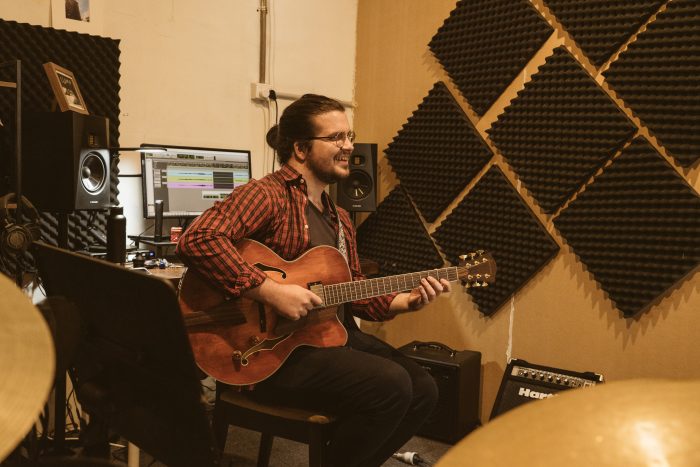 Parramatta Road, Stanmore NSW, Australia
Guitar Lessons | Drum Lessons, Electric Bass Lessons, Ukulele Lessons | Aural Lessons, Ensemble Coaching, Theory Lessons, Composition Lessons, Jazz Improvisation Lessons, HSC Music Exam Preparation, Skype Lessons
---
Qualifications:

Bachelor of Music (Hons.)/Bachelor Of Education

Pricing:

$80/Hour

Styles:

Contemporary, Jazz, & Classical

Suitability:

All Ages
---
Bio
I am a teacher who helps people develop a closer understanding of how music, their instrument, and their interests grow together.
I specialise in jazz and contemporary guitar, with a focus on aural skills, reading, and improvisaton. Using these building blocks, I help students develop the necessary skills to teach themselves. I work directly with my students to develop goals and practice routines that will allow them to achieve their own musical aspirations. I also encourage students to explore a broad range of musical styles and techniques, and to continually dive into new deep-ends. I am also available to teach electric bass and drum kit.
Over the past 8 years, I have taught across Sydney, and across all age groups. Currently, I teach a number students and ensembles both through schools and privately. As a qualified secondary music teacher, I draw upon a wide range of musical experiences to help students develop their musicality beyond instrumental ability alone. This is particularly important for me working as a coach & accompanist in both secondary and tertiary examinations.
---
Teaching Info
Having taught both in studio and classroom settings, I focus on providing a holistic approach in my teaching. Some of the key skill areas that I work on include:
Repertoire: Learning songs, building set-lists
Improvisation: Jazz, blues, rock, soloing
Practice Technique: Organising, evaluating, and developing routines
Reading Skills: Traditional notation, non-traditional notation, tablature
Composition & Arranging: Song-writing, arranging instrumental parts
Music theory: Chord knowledge, chord-scale theory, terminology
Aural Skills: Transcription, sight-singing
Through engaging with these skills, I actively work with students to help them in managing their own learning and discovering their musical self.